Here
five simple
Brazilian Colonial Churches to decorate your desktop
. These models were
originally posted on 12/5/2017
and now here they are again in
revised PDF versions
and in
three different formats: A3, A4 and Letter, so you can choose the format that is best for your interests .
Enjoy!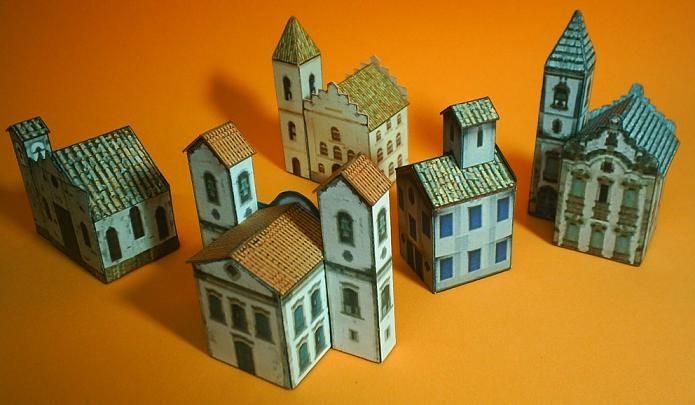 Cinco Igrejas Coloniais Brasileiras para decorar sua mesa de trabalho
. Estes modelos foram
postados originalmente pela última vez em 05/12/2017
e agora aqui estão eles novamente, em
versões PDF revisadas
e em
três formatos diferentes: A3, A4 e Carta,
para que
você possa escolher o formato que é melhor para seus interesses.
Bom Divertimento!

Brazilian colonial architecture
was derived from
Portugal
, with adaptations demanded by the tropical climate. The more enduring examples of this very attractive style are to be found in the
churches and monasteries
of the older cities, but most spectacularly in
Ouro Preto
, the first capital of the province of
Minas Gerais
. This city has been meticulously restored and protected as part of
Brazil's heritage
and it is now on
UNESCO's World Heritage List.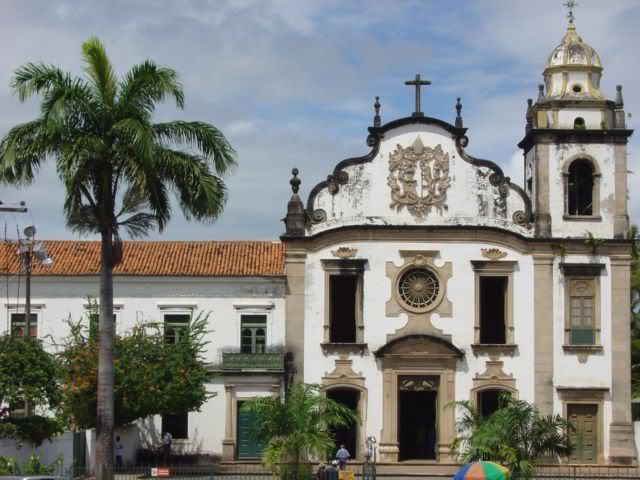 The Real Thing
No Brasil
, a
Arquitetura colonial
é definida como a arquitetura realizada no atual território brasileiro desde
1500
, ano do descobrimento pelos
portugueses
, até a
independência
, em
1822
.
Durante o período colonial
, os colonizadores importaram as correntes estilísticas da
Europa
à colônia, adaptando-as às condições materiais e sócio-econômicas locais. Encontram-se no
Brasil
edifícios
coloniais
com traços arquitetônicos
renascentistas, maneiristas, barrocos, rococós e neoclássicos
, porém a transição entre os estilos se realizou de maneira progressiva ao longo dos séculos e a classificação dos períodos e estilos artistísticos do
Brasil
colonial é motivo de debate entre os especialistas.
A importância do legado
arquitetônico e artístico colonial no
Brasil
é atestada pelos conjuntos e monumentos desta origem que foram declarados
Patrimônio Mundial
pela
UNESCO
. Estes são os
centros históricos de Salvador, Ouro Preto, Olinda, Diamantina, São Luís do Maranhão, Goiás Velho, o Santuário do Bom Jesus de Matosinhos em Congonhas do Campo e as ruínas das Missões Jesuíticas Guarani em São Miguel das Missões.
Link to A3 version:
Desktop.Architecture.Series.04.Brazilian.Colonial.Churches.by.Papermau.A3.Format
Link to A4 version:
Desktop.Architecture.Series.04.Brazilian.Colonial.Churches.by.Papermau.A4.Format
Link to Letter version:
Desktop.Architecture.Series.04.Brazilian.Colonial.Churches.by.Papermau.Letter.Format
About Toys In The Attic by Papermau:
Toys in the Attic is the third album by American rock band Aerosmith, released in April 1975.
Is also a name of a 1963`s drama movie with Dean Martin and Geraldine Page. Now, because this is a really nice name, this will be the name of a new session of Papermau`s blog. In this session I will share old original and exclusive paper models posted more than a year here in the blog. It's a way of not letting these models get lost among over 3,000 posts in a year and a half of existence of the blog.
Toys in the Attic (Brinquedos no Sotão) é o nome do terceiro album da banda norte-americana de rock Aerosmith, lançado em 1975. É também o nome de um drama para o cinema de 1963 chamado aqui no Brasil de Na Voragem das Paixões, que contava no elenco com Dean Martin (o parceiro do Rat Pack e de Jerry Lewis) e Geraldine Page. Agora, porque eu acho esse um título muito legal, Toys in the Attic será o nome de uma nova sessão do blog Papermau. Nesta sessão eu publicarei antigos modelos de papel originais e exclusivos postados há um ano ou mais. Esta é a maneira que encontrei para que estes modelos não fiquem perdidos e esquecidos entre mais de três mil postagens feitas em um ano e meio de existência do blog.