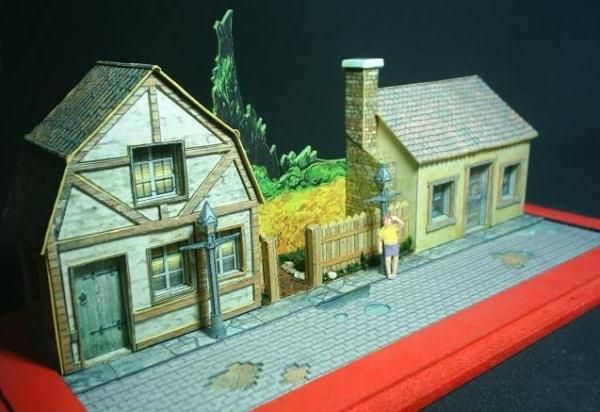 Here an exclusive little diorama, made with Sketchup+Pepakura+MSPaint, free to download, of course. sketchup and Pepakura files included at .rar.
Aqui um diorama pequeno, desenhado com Sketchup, desdobrado no Pepakura e texturizado no MSPaint. No arquivo .rar estão incluídos os modelos em Sketchup e Pepakura, assim quem quiser montar o diorama não encontrará dificuldades.
Download:
Brick.Street.Diorama.by.Papermau.Rua.de.Paralelepípedos
About Toys In The Attic by Papermau:
Toys in the Attic is the third album by American rock band Aerosmith, released in April 1975. Is also a name of a 1963`s drama movie with Dean Martin and Geraldine Page. Now, because this is a really nice name, this will be the name of a new session of Papermau`s blog. In this session I will share old original and exclusive paper models posted more than a year here in the blog. It's a way of not letting these models get lost among over 3,000 posts in a year and a half of existence of the blog.
Toys in the Attic (Brinquedos no Sotão) é o nome do terceiro album da banda norte-americana de rock Aerosmith, lançado em 1975. É também o nome de um drama para o cinema de 1963 chamado aqui no Brasil de Na Voragem das Paixões, que contava no elenco com Dean Martin (o parceiro do Rat Pack e de Jerry Lewis) e Geraldine Page. Agora, porque eu acho esse um título muito legal, Toys in the Attic será o nome de uma nova sessão do blog Papermau. Nesta sessão eu publicarei antigos modelos de papel originais e exclusivos postados há um ano ou mais. Esta é a maneira que encontrei para que estes modelos não fiquem perdidos e esquecidos entre mais de três mil postagens feitas em um ano e meio de existência do blog.