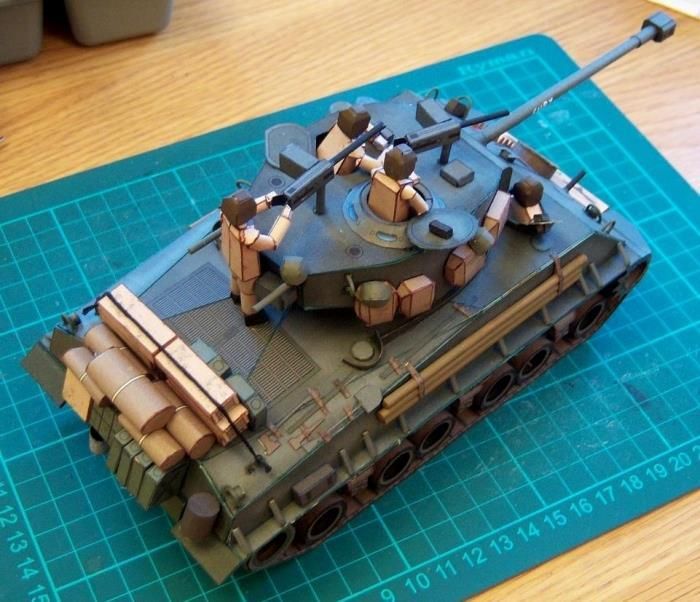 An Indonesian artist (Julius Perdana) design a paper model
of a
North American tank (Fury)
who combated in
Germany
during
World War II
. This model is
downloaded and assembled
by an
United Kingdom modeler (Tim Crowe)
and then
posted here in a Brazilian blog.
I believe that is to be invented
a hobby that unites so many people from different cultures in such an instantaneous and almost free way.
This is what
paper modeling hobby does.
Requiring few material resources and a lot of patience,
this hobby is
accessible to anyone who has an internet connection, a printer, glue and scissors.
The
quality of the model
, the
excellence of the work
will depend on the
dedication and creativity of the modeler.
- If you want to
build your own
Tank Sherman "Fury" M4A3E8,
the
link to download the model
is
right below
, at the
end of this post.
Um artista indonésio (Julius Perdana)
desenha um
modelo de papel de um tanque de guerra norte-americano (Fury)
que
combateu na Alemanha
durante a
Segunda Grande Guerra.
Este modelo é
baixado
e
montado por um modelista do Reino Unido (Tim Crowe)
e depois é
postado aqui, em um blog brasileiro
. Eu creio que esteja para ser inventado
um hobby que una tantas pessoas de diferentes culturas de uma forma tão instantânea e quase de graça.
É isto que
o hobby do modelismo em papel faz.
Exigindo poucos recursos materiais e muita paciência
, este hobby é
acessível a qualquer pessoa que tenha uma conexão com a internet, uma impressora, cola e tesoura.
A
qualidade do modelo
, a
excelência do trabalho realizado,
vai depender da
dedicação e criatividade do modelista.
- Se você quiser
montar seu próprio Tanque Sherman "Fury" M4A3E8,
o
link para baixar o modelo
está
logo abaixo.
Link:
Sherman.Fury.M4A3E8.Tank.Paper.Model.by.Julius.Perdana.Paper.Replika
About the Ephemeral Museum:
I "am in the paper modeling" since 2005
, although I've had
contact with paper models from my childhood in the 1970s
, via
magazines
that were
sold sporadically in newsagents
. I remember
magazines with houses to build
and dioramas/playsets of
airports, western forts, nativity scenes
and the like. With the
advent of the internet
what happened was simply a
revival of the papercraft hobby
for
me
and
many other people of my generation.
Today I am
opening a new session here on the blog
, the
Ephemeral Museum
, which is
a place where I will show
some of the
models that I built all these years.
I would also like this
to be a space where all modelers friends could show their work
, so
if anyone wants to participate in this "museum"
, just
send photos of your work and a few words, if you want, to the e-mail:
mautherous@gmail.com
All who submit their work will be published, without exceptions.
Eu "estou no papelmodelismo" desde 2005
, embora eu já
tivesse contato com modelos de papel desde minha infância
, nos
anos 1970,
via
revistas que eram vendidas esporadicamente em bancas de jornal
. Lembro que haviam
revistas com casas para montar e dioramas/playsets de aeroportos, fortes-apache, presépios
e coisas do tipo. Com o
advento da internet
o que houve foi simplesmente um
renascimento do hobby do papelmodelismo para mim e muitas outras pessoas de minha geração
. Hoje eu estou
inaugurando uma nova sessão aqui no blog
, o
Ephemeral Museum
, que é um lugar aonde
irei mostrar alguns dos modelos que eu construí em todos estes anos
. Também gostaria que esse fosse
um espaço aonde todos os amigos modelistas pudessem mostrar seus trabalhos
, sendo assim, s
e alguém quiser participar deste "museu", basta mandar fotos de seu trabalho e algumas palavras
para o
e-mail abaixo:
mautherous@gmail.com
Todos que enviarem seus trabalhos serão publicados, sem exceções.
More The Ephemeral Museum and Paper Model History related posts:
1910`s Crown Princess Cecilie Steam Cruise Ship Paper Model - by AGK Kartonmodellbau
Paper Model History - Chili Pin Up Vintage Paper Doll - by Stan Lee
The Ephemeral Museum - An Ancient Ship Papercraft - by Papermau
The Ephemeral Museum - 1957`s Chevy Monster 4X4 Paper Model - by James Catalano