The brazilian modeler Henrique Martins, aka C3bola, honored me with a beautiful assembly of the Vintage Service Station. If you click on the Youtube video below, you'll see that the light which he placed at the front, just above the gas pumps, creating a beautiful effect. Thanks, C3bola, for this beautiful assembly and the kindness to send me the photos and video!

O colega modelista Henrique Martins, o C3bola, aqui do Brasil, honrou-me com uma bela montagem do Vintage Service Station, ou Posto de Gasolina Antigo. Se você clicar no vídeo do Youtube abaixo, vai ver que até luz ele colocou na fachada, logo acima das bombas de gasolina, criando um belo efeito. Valeu, C3bola, por esta bela montagem e pela gentileza de enviar-me as fotos e o vídeo!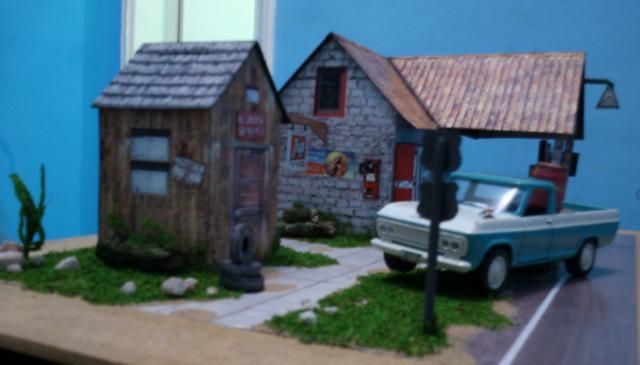 If you want to build your own Vintage Service Station Paper Model, you will find the link to download at the end of this post.
Se você quiser montar o seu próprio Posto de Gasolina antigo, o link para download está no final deste post.
Link:
Vintage.Service.Station.Paper.model.by.Papermau.Download.Now!
More Papermau`s Models Assembled by Friends related posts:
Castle Ruins Diorama - Assembled by Sam Wise
Route 66 Abandoned Gas Station - Walking Dead`s Custom - by Dave Winfield
Brazilian Abandoned House - Assembled by Bosco
Greek Roman Ruins - Assembled by Coscomomo