From the Japanese anime and mangá series
Boku Dake ga Inai Machi (The Town Without Me)
, here is
Hiyokotsuki Kayo
, in a
perfect paper model version
created by
Japanese designer Muumin.
To
view and print this model
you will need
Pepakura Viewer Free Version
(
link at the end of this post
).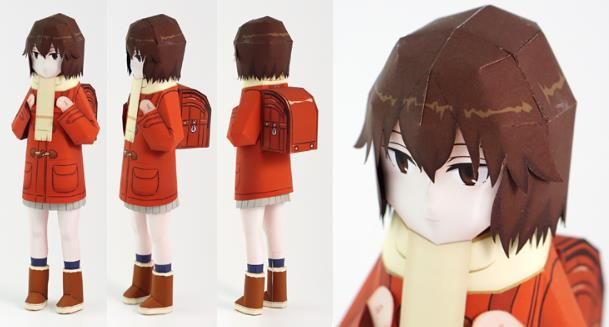 Da série de animes e mangás japoneses
Boku Dake ga Inai Machi (The Town Without Me)
, eis aqui
Hiyokotsuki Kayo
, em uma
perfeita versão em papel
criada pelo
designer japonês Muumin
. Para
visualizar e imprimir este modelo
você precisará do
Pepakura Viewer Versão Gratuíta
(
link no final deste post
).
Link to download the model:
Boku.Dake.Ga.Inai.Machi.Hiyokotsuki.Kayo.Paper.Doll.by.Muumin
Link to Pepakura Viewer Free Version:
Pepakura.Viewer.Free.Version.Official.Page
More Anime and Mangá Paper Models related posts:
Totoro And Friends Paper Models - by Studio Of MM
Pokémon Papercraft - Bulbasaur, Ivysaur and Venusaur - by Paper Pokés
K-On Paper Toys - by Anime Paper Toys - Bonecas Estilo Cube Do Anime K-On
Tachibana Kanade Paper Doll - by Ani Papercraft - Boneca Estilo Anime