This stunning model of the Yamaha YZF-R1, in 1/5 scale,
was assembled by
Brazilian deigner and modeler Matheus Tarsis Fernandes
, as a
work for your course conclusion
named
"The papercraft as a mean of project for designers"
The
Yamaha YZF-R1
is a
very complex paper model,
full of little and intricated pieces
and the
full model is composed of 322 parts
, divided in
22 sheets of paper.
But
do not be alarmed
, because
the instructions, which occupy 20 pages are very well made, detailed and full of photos
. - If you want to
build your own Yamaha YZF-R1,
the
link to download the free model
is
right below
, at the
end of this post,
and also
a link to Matthew's page
where you'll find
more photos of this beautiful model.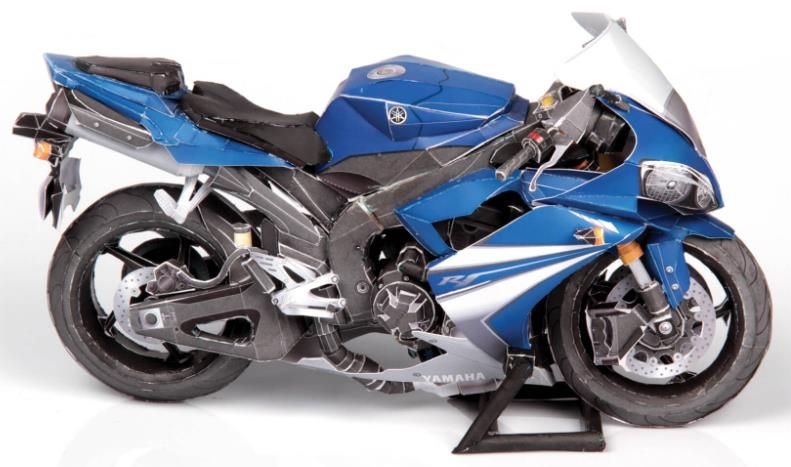 Este modelo impressionante da Yamaha YZF-R1 na escala 1/5,
foi montado pelo
designer e modelista brasileiro Matheus Tarsis Fernandes
, como um
trabalho para a sua conclusão de curso
chamado
"O papercraft como meio de projeto para designers."
A Yamaha YZF-R1
é um
modelo de papel bem complexo
, cheio de
peças pequenas e intrincadas
e o
modelo completo é composto de 312 peças
, divididas em
22 folhas de papel
. Mas
não se assuste
, porque
as instruções, que ocupam 20 páginas, são muito bem feitas, detalhadas e cheias de fotos.
- Se você quiser
montar sua própria Yamaha YZF-R1
, o
link para baixar o modelo gratuíto
está
logo abaixo
e também há
outro link para a página de Matheus,
aonde você encontrará
muitas outras fotos deste modelo.
Link to download the model:
Yamaha.YZF.R1.Motorcycle.Paper.Model.In.1/5.Scale.by.Yamaha.Motors
Link to Matheus page:
Yamaha.YZF.R1.Motorcycle.Paper.Model.Assembled.by.Matheus.Tarsis.Fernandes
About the Ephemeral Museum:
I "am in the paper modeling" since 2005
, although I've had
contact with paper models from my childhood in the 1970s
, via
magazines
that were
sold sporadically in newsagents
. I remember
magazines with houses to build
and dioramas/playsets of
airports, western forts, nativity scenes
and the like. With the
advent of the internet
what happened was simply a
revival of the papercraft hobby
for
me
and
many other people of my generation.
Today I am
opening a new session here on the blog
, the
Ephemeral Museum
, which is
a place where I will show
some of the
models that I built all these years.
I would also like this
to be a space where all modelers friends could show their work
, so
if anyone wants to participate in this "museum"
, just
send photos of your work and a few words, if you want, to the e-mail:
mautherous@gmail.com
All who submit their work will be published, without exceptions.
Eu "estou no papelmodelismo" desde 2005
, embora eu já
tivesse contato com modelos de papel desde minha infância
, nos
anos 1970,
via
revistas que eram vendidas esporadicamente em bancas de jornal
. Lembro que haviam
revistas com casas para montar e dioramas/playsets de aeroportos, fortes-apache, presépios
e coisas do tipo. Com o
advento da internet
o que houve foi simplesmente um
renascimento do hobby do papelmodelismo para mim e muitas outras pessoas de minha geração
. Hoje eu estou
inaugurando uma nova sessão aqui no blog
, o
Ephemeral Museum
, que é um lugar aonde
irei mostrar alguns dos modelos que eu construí em todos estes anos
. Também gostaria que esse fosse
um espaço aonde todos os amigos modelistas pudessem mostrar seus trabalhos
, sendo assim, s
e alguém quiser participar deste "museu", basta mandar fotos de seu trabalho e algumas palavras
para o
e-mail abaixo:
mautherous@gmail.com
Todos que enviarem seus trabalhos serão publicados, sem exceções.
More Ephemeral Museum related posts:
The Ephemeral Museum - An Ancient Ship Papercraft - by Papermau
The Ephemeral Museum - 1957`s Chevy Monster 4X4 Paper Model - by James Catalano
The Ephemeral Museum - Sherman "Fury" M4A3E8 Tank Paper Model - Assembled by Tim Crowe
The Ephemeral Museum - Yamaha YZF-R1 Motorcycle Paper Model - Assembled by Matheus Tarsis Fernandes