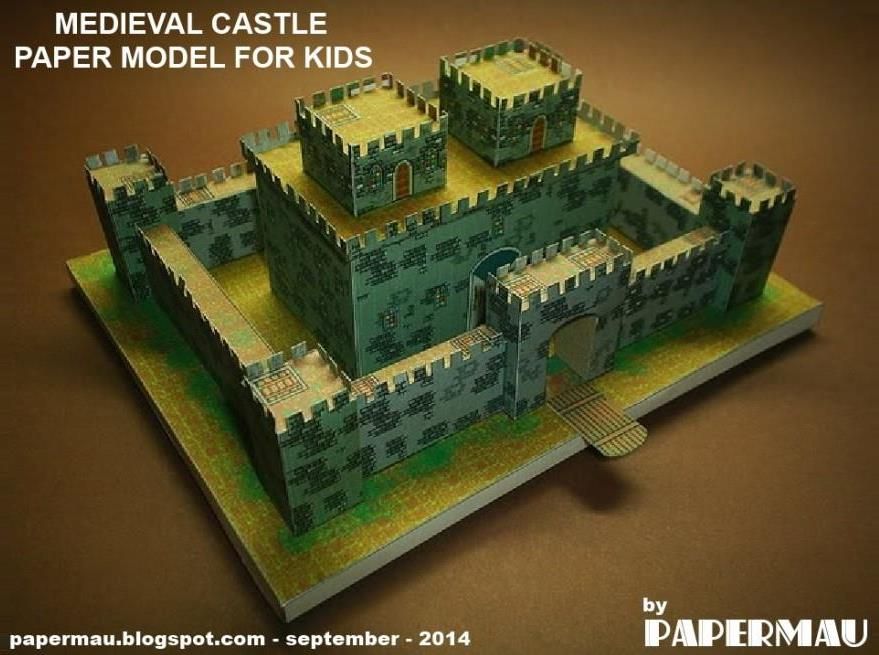 This is the Medieval Castle Paper Model For Kids
and it was
originally posted here in September, 4, 2011,
two months after
this blog have been opened
. It has been
fully drawn and texturized using MsPaint.
I
reviewed the model
and turned into
PDF format
, thereby
removing printing errors, since all sheets are automatically the same resolution and size.
If you like it,
you can download easily
, directly from
Google Docs.
You can choose between Letter format or A4 format.
Have fun!
Este é o Castelo Medieval Para Crianças
, e foi originalmente postado no dia
4 de Setembro de 2011
, dois meses após a
inauguração deste blog
. Ele foi
totalmente desenhado e texturizado usando-se o MsPaint.
Eu
revisei
o modelo e o passei para o
formato PDF
,
eliminando assim erros de impressão
, uma vez que
todas as folhas
ficam
automaticamente na mesma resolução e tamanho
.
Se você gostou e quer montar o seu
, você pode
baixá-lo facilmente direto do Google Docs
. E ainda pode
escolher entre dois formatos
:
Letter (Carta) e A4.
Bom divertimento.
A4 Format:
Toys.In.The.Attic.Medieval.Castle.Paper.Model.For.Kids.A4.Format.Download.Now!
Letter Format:
Toys.In.The.Attic.Medieval.Castle.Paper.Model.For.Kids.Letter.Format.Download.Now!
About Toys In The Attic by Papermau:
Toys in the Attic
is the
third album by American rock band Aerosmith
, released in
April 1975
. Is also a name of a
1963`s drama movie
with
Dean Martin
and
Geraldine Page
. Now,
because this is a really nice name
, this
will be
the name of a
new session of Papermau`s blog
. In this
session
I will
share old original and exclusive paper models
posted
more than a year
here in the
blog
. It's a
way of not letting these models get lost
among
over 5.500 posts in three years of existence of the blog
.
Toys in the Attic
(
Brinquedos no Sotão
) é o nome do
terceiro album da banda norte-americana de rock Aerosmith
, lançado em
1975
. É também o nome de um
drama para o cinema de 1963
chamado aqui no Brasil de
Na Voragem das Paixões
, que contava no elenco com
Dean Martin (o parceiro do Rat Pack e de Jerry Lewis) e Geraldine Page.
Agora, porque eu acho esse um
título muito legal
,
Toys in the Attic
será o nome de uma
nova sessão do blog Papermau
. Nesta sessão eu
publicarei antigos modelos de papel originais e exclusivos postados há um ano ou mais
. Esta é a
maneira que encontrei para que estes modelos não fiquem perdidos e esquecidos
entre
mais de 5.500 postagens
feitas em
três anos de existência do blog.
More Toys In The Attic related posts:
Toys In The Attic - by Papermau - Brick Street Diorama
Toys In The Attic - The Old Yellow House Paper Model - by Papermau
Toys In The Attic - by Papermau - Volkswagen Transporter Van Brazilian Kombi
Toys In The Attic - by Papermau - Brazilian Abandoned House