This is Bender Bending Rodríguez, the Robot
in a
very well done paper model version
created by
Argentinian designer Idrivn
, from
Maqueteando Craft
website. Commonly known as
Bender,
is a
main character in the animated television series Futurama
. He was created by s
eries creators Matt Groening and David X. Cohen
. He fulfills a
comic, antihero-type role in Futurama
and is described by fellow character
Leela
as an
"alcoholic, whore-mongering, chain-smoking gambler"
- You will need
eight sheets of paper to build this big version of Bender.
-
You will find the model in two formats
:
PDF and PDO (Pepakura)
, so you can
print the model with the PDF format and use the PDO format as guide,
because it
can be visualized in 3D.
If you don`t have
Pepakura Viewer Free Version
yet, the
link to download
is at the
end of this post.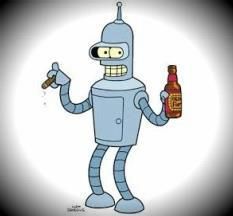 Este é Bender Bending Rodríguez, o Robô
, em uma
perfeita versão em papel
criada pelo
designer argentino Idrivn,
do site
Maqueteando Craft
. Vulgarmente conhecido como
Bender
, é
um dos personagens principais na série animada de televisão Futurama
. Ele foi criado por
Matt Groening e David X. Cohen
. Ele cumpre um
papel cômico, do tipo anti-herói em Futurama
e é descrito pela colega
Leela
como um
"alcoólatra, cafetão, jogador inveterado e cadeieiro."
- Você vai precisar de
oito folha de papel para montar seu próprio Bender
, que
nesta versão fica bem grandinho.
-
Você encontrará o modelo em dois formatos: PDF e PDO (Pepakura),
então você pode usar o
PDF para imprimir as peças e o PDO como guia de montagem
, já que com ele você pode
visualizar o modelo em 3D.
Se você ainda não tem o programa
Pepakura Viewer Versão Gratuíta,
o
link para baixá-lo
se encontra no
final deste post.
Link to download the model:
Futurama.Bender.Rodriguez.Paper.Model.by.Maqueteando.Craftn
Link to Pepakura Viewer Free Version:
Pepakura.Viewer.Free.Version.Official.Page
More Paper Models of Robots related posts:
Easy-To-Build Robot Paper Toy - by UOL - Robô Paper toy Para Crianças
Articulated Poplock Robot Paper Toy - by Paper Posables - Robô Articulado
Johnny 5 Paper Robot - by Randy Padama - via DeviantArt
Rosie Jetson The Robot Maid - by Phil Creations