The Real Thing
Created by Japanese designer Ama,
from
Axe Factory website
, this is the
paper model version
of the
IBM 5100 Portable Computer
in
1/12 scale.
The IBM 5100 Portable Computer
is a
portable computer (one of the first, if not the very first)
introduced in
September 1975,
six years before the
IBM Personal Computer.
A
single integrated unit
provided the
keyboard, five-inch CRT display, tape drive, processor, several hundred kibibytes of read only memory containing system software
, and
up to 64 KiB of RAM.
It was the
size of a small suitcase
,
weighed about 55 lb (25 kg)
, and could be
transported in an optional carrying case
, hence the
"portable" designation
. In
1975 it was an amazing technical accomplishment to package a complete computer with a large amount of ROM and RAM, CRT display, and a tape drive into a machine that small
; it was
two more years before the similar but much cheaper Commodore PET was released
. Earlier
desktop computers of approximately the same size
, such as the
HP 9830
, did
not include a CRT nor nearly as much memory
.
An equivalent late 1960s IBM computer would have been nearly as large as two desks and would have weighed about half a ton.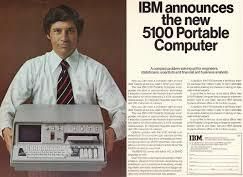 A 1975 Announcement
C
riado pelo designer japonês Ama
, do site
Axe Factory
, esta é a
versão em papel
na
escala 1/12
do do
Computador Portátil IBM 5100
.
O IBM 5100 Portable Computer
foi um
computador pessoal
apresentado ao mercado em
setembro de 1975,
seis anos antes
do IBM PC
. Uma
simples unidade integrada
incluía o
teclado, monitor CRT de 5 polegadas, unidade de fita magnética, processador IBM PALM, várias centenas de kilobytes de memória ROM
contendo
software
e até
64 KB de memória RAM
. Era do
tamanho de uma valise pequena
,
pesando em torno de 25 kg
e podia ser
transportado numa caixa com rodízios
, daí o apelido
"portátil"
. Embora o
IBM 5100 pareça grande para os padrões de hoje
, em
1975
era uma
incrível realização técnica
colocar um
computador completo,
com uma
grande quantidade de memória ROM e RAM, monitor CRT e uma unidade de fita numa embalagem tão pequena;
ele foi
lançado mais de dois anos antes que o similar Commodore PET chegasse ao mercado.
Antigos computadores pessoais
com
aproximadamente o mesmo tamanho
, tais como o
HP 9830
,
não incluíam um monitor CRT
nem uma
quantidade de memória próxima da do IBM 5100.
Um
computador IBM equivalente em fins da década de 1960, seria tão grande quanto duas escrivaninhas juntas e pesaria cerca de meia tonelada.
Link:
Personal.Computer.IBM.5100.Paper.Model.In.1/12.Scale.by.Ama
More Paper Models of Computers related posts:
Apple I and Apple II PCs - by Julius Perdana - Paper-Replika
Commodore SX-64 First Portable PC - by Erik Schubach
The Macintosh Papercraft - by The Burn Lab - Computador Mac Em Papel
IBM 5100 Portable Computer Paper Model - by Casita De Papel