Model Assembled and Photo by Kohana Chanukah
This stunning paper model of Yuna,
character of
Final Fantasy videogames series
, in
wedding dress
, was created by
Indonesian designer and modeler AaronVFT
.
You will find the model in two formats
:
PDF and PDO (Pepakura)
, so you can
print the model with the PDF format and use the PDO format as guide,
because it
can be visualized in 3D.
If you don`t have
Pepakura Viewer Free Version
yet, the
link to download
is at the
end of this post.
-
I would like to say thanks to German modeler Kohana Chanukah
, because the
first image of this post, Yuna in red, was assembled by her.
Model Assembled and Photo by AAron VFT
Este impressionante modelo de papel da Yuna
, personagem da
série de videogames Final Fantasy
, com
vestido de noiva,
foi criado pelo
designer e modelista indonésio AaronVFT.
Você encontrará o modelo em dois formatos: PDF e PDO (Pepakura),
então você pode usar o
PDF para imprimir as peças e o PDO como guia de montagem
, já que com ele você pode
visualizar o modelo em 3D.
Se você ainda não tem o programa
Pepakura Viewer Versão Gratuíta,
o
link para baixá-lo
se encontra no
final deste post.
-
Eu gostaria de agradecer a modelista alemã Kohana Xanokah,
pois a
primeira imagem deste post
, a
Yuna em fundo vermelho
, foi
montada por ela.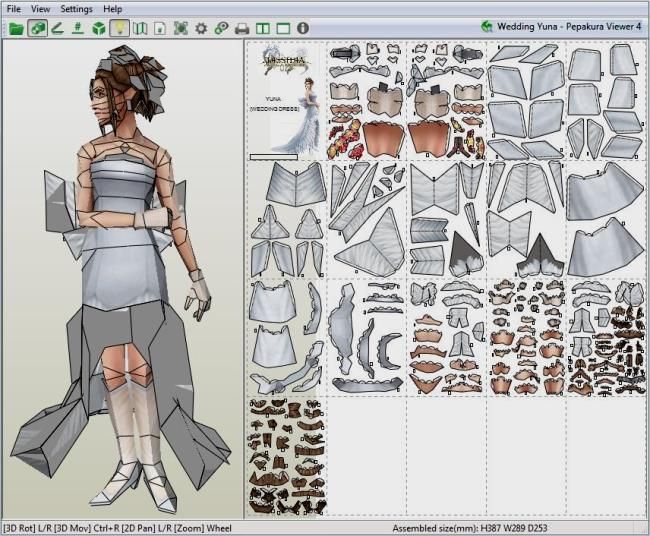 Link to download the model:
Final.Fantasy.Yuna.In.Wedding.Dress.Paper.Model.by.AaronVFT
Link to Pepakura Viewer Free Version:
Pepakura.Viewer.Free.Version.Official.Page
More Paper Models of Videogames Characters related posts:
Little Monsters from Mostruo Nintendo Game- by Ushimitsu
Big Sister From BioShock2 - by Destro2k - via Deviant Art
Half-Life 2 Dog Papercraft - by GOLLUM 999 Papercraft - Robô Cão de Half-Life 2
Assassin`s Creed - Altair Paper Model - by Noturno Sukhoi