This is BETTY, the spaceship from the sci-fi movie Alien: Resurrection.
This
perfect paper model version of BETTY
, in
1/144 scale
, was created by
Slovakian designer and modeler Vger1981
. The
first image of this post is by Vger1981
and
all the other images are by Germany modeler Styggs
. If you intend to build this
complex model
, you will need
16 sheets of paper.


Esta é BETTY, a espaçonave do filme sci-fi Alien: Resurrection.
Esta
perfeita versão em papel de BETTY
, na
escala 1/144
, foi criada pelo
designer e modelista eslovaco Vger1981.
A
primeira imagem deste post é de Vger1981
e
todas as outras imagens são do modelista alemão Styggs.
Se você pretende construir este
modelo complexo
, você vai
precisar de 16 folhas de papel.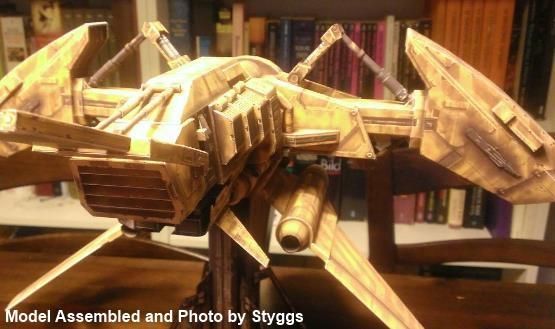 Link:
Alien.Resurrection.The.BETTY.Spaceship.Paper.Model.by.Vger1981
More Sci-Fi Paper Models related posts:
UFOS Paper Models Special - 66th Anniversary Of The Roswell Incident
Queen Of Hearts Rocket Ship Paper Toy - by Chemical 9
Star Wars` Chewbacca Big Head Paper Toy - by Chemical 9
Action Fleet Go! Sci-Fi Paper Vehicles - by Sheery Lou Toys