Philipp Stollenmayer, the mind behind these cool Harlem Shake Paper toys, says:
-
"I have been shaking for nearly 3 months now... straight. Time to hand over the responsibility to some paper guy that I can put on whatever shakes. The car, the washing machine, grandma, ... Make as many as you like and let your mini-me shake it for you."
In the end of this post you will find the link to download the model at Kamibox`s page and also a link to a very detailed tutorial, full of images, showing how to assemble your Harlem Shake Guy.
The video that you see in this post was created by Ddi7i4d.
Philipp Stollenmayer, a mente por trás destes incríveis Harlem Shake Paper Toys, diz:
-
"Eu tenho "chacoalhado" já vão três meses...direto! Já é hora de passar essa responsabilidade para alguns carinhas de papel que possam chacoalhar aonde quer que seja: no carro, na máquina de lavar, nas mão da vovó... monte quantos quiser e deixe seus mimi-me chacoalharem por você." No final deste post você encontrará o link para baixar o modelo no site do Kamibox e também um link para o Instructables, onde há um tutorial super detalhado, repleto de imagens, mostrando como montar seu Harlem Shake.
O vídeo que você vê neste post foi criado por Ddi7i4d.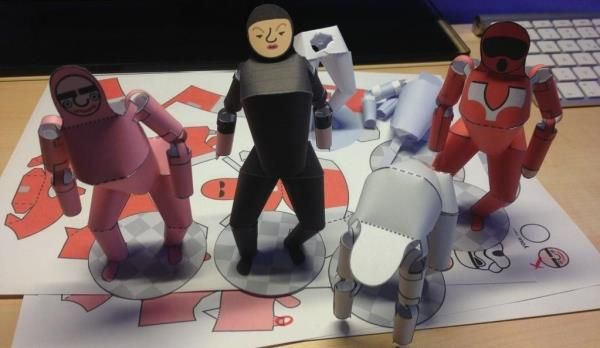 Watch the video with the sound on!
-
Assista o vídeo com o som ligado!
Link to Kamibox download page:
Harlem.Shake.Paper.Toys.by.Kamibox.Download.Page
Link to Harlem Shake tutorial at Instructables:
Harlem.Shake.Paper.Toys.Tutorial.via.Instructables
More Movable and Automata Paper Toys related posts:
Da Vinci`s Mechanical Hammer - by Paper Pino - Martelo de Da Vinci
Silly Alien Automata Paper Toy - by World Up Side Down
Chicken And Newborn Baby Chick Automata Papercraft - by Canon
Animated Tyrannosaurus Rex - by Kids Net - Tiranossauro