This is the paper model of St. Cyriakus Church
and it was
based in a real building
situated in
Baden Württemberg, Germany
. This
model in 1/100 scale
was created by
German designer and modeler Martin Gumhold,
from
MAGs Papiermodelle website
and you will find it in
two versions:
a
more simple in three sheets of paper
and
one more detailed, occupying four sheets.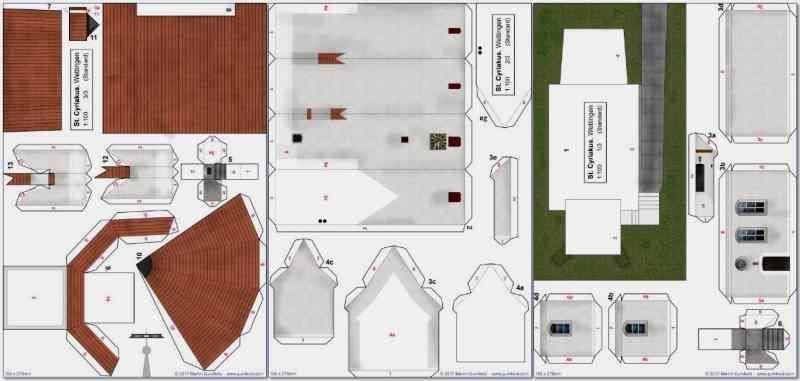 Este é o modelo de papel da igreja de St. Cyriakus
e ele foi
baseado em uma contrução real
situada em
Baden Württemberg, Alemanha
. Este
modelo em escala 1/100
foi criado pelo
designer e modelista alemão Martin Gumhold
, do site
MAGs Papiermodelle
e você o encontrará
duas versões:
uma
mais simples em três folhas de papel
e uma
mais detalhada, ocupando quatro folhas.
Link:
St.Cyriakus.Church.Paper.Model.In.1/100.Scale.by.Martin.Gumhold
More Paper Models of European Architecture and Buildings related posts:
Swiss Wood Cabin - by Papermau - Cabana de Madeira Suíça
Hamlet Medieval Village - by Alternate Realms - Vilarejo Medieval
Tudor-Cottage - by Sirius Art Works - Chalé Vitoriano
European Tower Bridge - by Papermau - Torre Sobre Ponte Européia