North American designer Jesse, aka Paper Cruiser
, is
specialist in create some of the most cool paper vehicles,
always in a
simple way, making the assembly fun
,
although maintaining the original forms and characteristics of the vehicles
, and
it is not easy to do, believe in me
. About this model,
he said:
-
"It's a complex machine with lots of parts.
Their goal was to
make a model that was easy to build
. With this goal in mind, I managed to
simplify this model down to a total of 14 parts
on
two A4-size pages."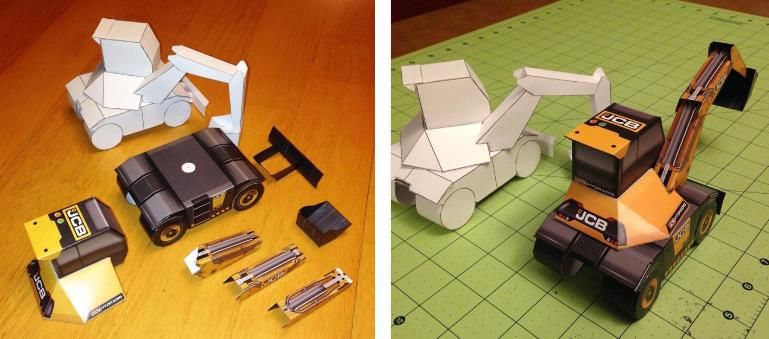 O designer norte-americano Jesse, aka Paper Cruiser
, é especialista em criar alguns dos
veículos em papel mais legais
, sempre de
uma forma simples, tornando a montagem divertida,
ainda que
mantendo as formas e características originais dos veículos,
e isso
não é fácil de conseguir,
acredite. Sobre este modelo,
ele disse:
-
"É uma máquina complexa
com
muitas partes,
e meu objetivo era
fazer um modelo que fosse fácil de montar
. Com esse objetivo em mente, eu
consegui simplificar este modelo para um total de 14 partes
em
duas páginas de tamanho A4."
Link to download the model:
Build.Your.Own.JCB.Hydradig.Paper.Model.by.Paper.Cruiser
Link to Paper Cruiser website:
Paper.Cruiser.Original.Paper.Models.Main.Page
More Paper Models of Worker Vehicles related posts:
Komatsu Dump Truck And Hydraulic Excavator Paper Models - by Jeanbi & Keisuke Saka
John Deere 6615 4X4 Tractor Paper Model - by Paper Diorama
Hydraulic Excavator Paper Model - by Canon - Escavadeira Hidráulica
Japanese Vibratory Soil Compactor CV550D Paper Model - by Sakai