Dr. Stephen Vincent Strange
, also known as
Doctor Strange
, is a
fictional superhero
appearing in
American comic books
published by
Marvel Comics.
Created by
Stan Lee
and
Steve Ditko
, the character first appeared in
Strange Tales #110 (cover-dated July 1963).
- This
cool paper toy
was created by
North American designer Calvin Nicholas Lin
, from
Cubefold
website.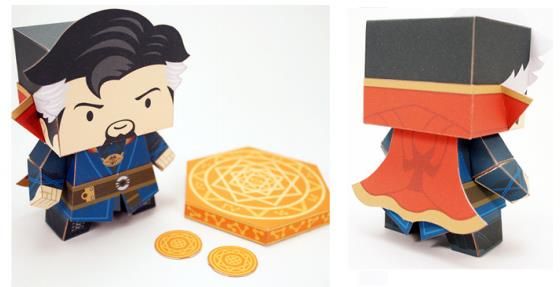 Doutor Estranho (Doctor Strange, no original)
é
Stephen Vincent Strange
, um dos
mais originais e diferentes personagens dos quadrinhos americanos
, e o
mago supremo do Universo Marvel
. Ele foi criado por
Stan Lee e Steve Ditko na década de sessenta.
Sua
primeiríssima aparição
foi na
revista Strange Tales , edição 110,
de
julho de 1963.
Este
paper toy bem bacana
foi criado pelo
designer norte-americano Calvin Nicholas Lin
, do site
Cubefold.

Link:
Dr.Strange.Master.Of.Mystic.Arts.Paper.Toy.by.Cubefold
More Super Heroes Paper Models related posts:
Capitain America Vs. The Axis Diorama - by Professor Plastik
Iron Man War Machine Poseable Paper Model - by Julius Perdana / Paper Replika
The Avengers In South Park Style - by Paper Inside
Batman Papercraft Animation Style - via Tektonten