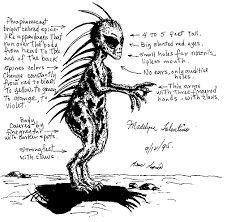 Chupacabra Sketch
By Mexican designer Mister Manolo
, here is the
Chupacabra
, in a cute
paper toy version.
The Chupacabra
or
Chupa-Cabra
(
Goat Sucker, literally
) is a
legendary cryptid rumored to inhabit parts of the Americas
, with the
first sightings reported in Puerto Rico.
The name comes from the
animal's reported habit of attacking and drinking the blood of livestock, especially goats.
Physical descriptions of the creature vary. It is purportedly a
heavy creature, the size of a small bear, with a row of spines reaching from the neck to the base of the tail.
Eyewitness sightings have been claimed as
early as 1995 in Puerto Rico
, and have since been reported as
far north as Maine, and as far south as Chile, and even being spotted outside the Americas in countries like Russia and The Philippines
, but
many of the reports have been disregarded as uncorroborated or lacking evidence
. Sightings in
northern Mexico and the southern United States have been verified as canids afflicted by mange.
Biologists and wildlife management officials view the chupacabra as a contemporary legend.
Mexican Newspaper Headline
Do designer Mexicano Mister Manolo
, aqui está o
Chupacabra
, em uma simpática
versão paper toy.
O Chupa-Cabra,
ou
Chupacabra,
é uma
suposta criatura responsável por ataques sistemáticos a animais rurais em regiões da América
, como
Porto Rico, Flórida, Nicarágua, Chile, México e Brasil.
O nome da cri
atura deve-se à descoberta de várias cabras mortas em Porto Rico com marcas de dentadas no pescoço e o seu sangue alegadamente drenado.
Embora o assunto tenha sido explorado na mídia brasileira, os rumores sobre a existência do misterioso ser foram gradualmente desaparecendo, cessando antes da virada do milênio.
O
primeiro ataque
relatado
ocorreu em
março de 1995 em Porto Rico
. Neste ataque,
oito cabras foram encontradas mortas
, cada uma com
três perfurações no tórax e totalmente esvaídas de sangue
.
Logo após os primeiros registros dos incidentes em
Porto Rico,
várias mortes de animais foram relatadas
em outros países como a
República Dominicana, Argentina, Bolívia, Chile, Colômbia, Honduras, El Salvador, Nicarágua, Panamá, Peru, Brasil, Estados Unidos e México
.
De tempos em tempos novos relatos aparecem, fazendo com que a lenda se perpetue.
Link:
Halloween.Special.El.Chupacabra.Paper.Toy.by.Mister.Manolo
More Halloween Paper Models related posts:
Halloween Special - Cute Halloween Paper Toys - by Sandi Agus
Classic Movies Monsters Paper Models - by Professor Plastik
Halloween Special - The Slenderman Paper Toy - by Paper Toys Clemper
Easy-To-Build Haunted House Paper Model In Cube Style - by Cyberdrone