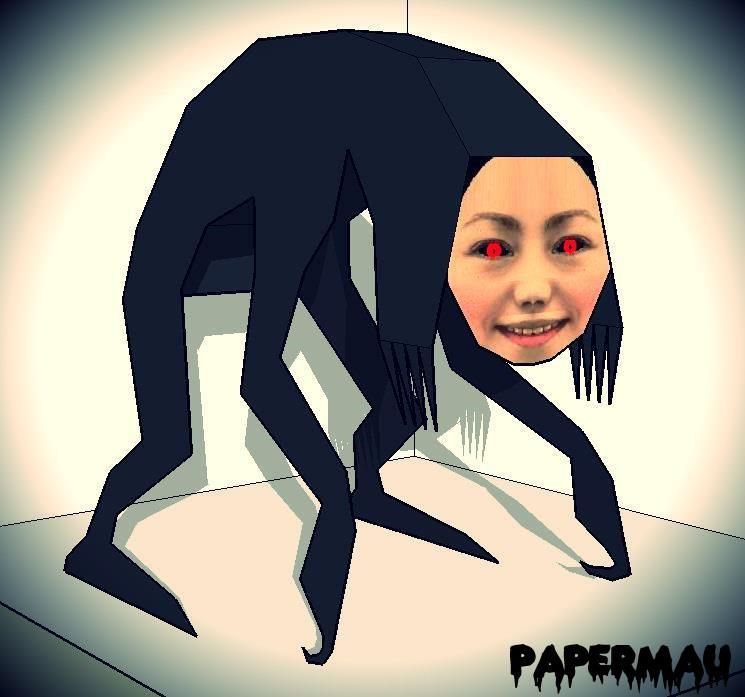 This
is the
Smiling Creature
, an
Urban Legend
.
He/She/It
just stands there
,
behind the door, in the closet or under your bed, smiling ... Legend says that anyone who looks long at his/her/it face goes crazy forever with an eternal smile on the face ...
-
An urban legend, urban myth, urban tale
, or
contemporary legend
, is a
form of modern folklore
consisting of
stories that may or may not have been believed by their tellers to be true
, and often possess
horror implications
that are
believable
to their
audience.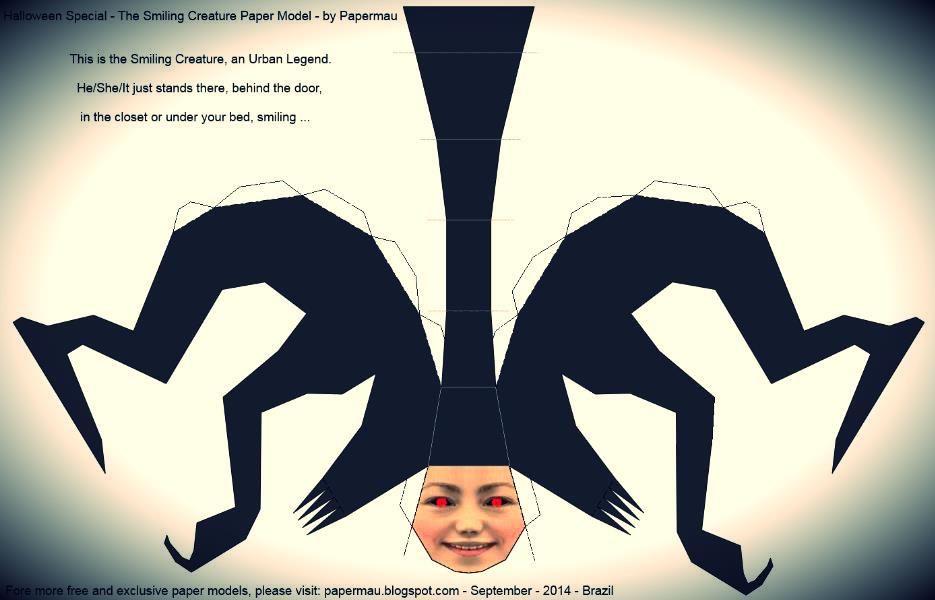 Esta
é a
Criatura Sorridente
, uma
Lenda Urbana
.
Ele/Ela apenas fica parado(a), atrás da porta, dentro do armário ou embaixo da sua cama, sorrindo...
A lenda
diz que
quem olha muito tempo para seu rosto enlouquece para sempre
, com um
eterno sorriso no rosto
. -
Lendas urbanas, mitos urbanos ou lendas contemporâneas
são
pequenas histórias de caráter fabuloso
ou
sensacionalista
, amplamente
divulgadas de forma oral,
por
e-mails
ou pela
imprensa
e que constituem um tipo de
folclore moderno
. São frequentemente
narradas como sendo fatos acontecidos
a um
"amigo de um amigo"
ou de
conhecimento público.
Download:
Halloween.Special.Urban.Legend.The.Smiling.Creature.Paper.Model.by.Papermau.Download.Now!
More Halloween Paper Models related posts:
Halloween Special - Classic Movies Monsters - by Andreas Hartung
Halloween Special - Frankenstein Follow-Me Head - by Frankenpaper
Halloween Special - Halloween House - by Canon
Halloween Special - Evil Dead Diorama - by Oh-Sheet Paper Toys