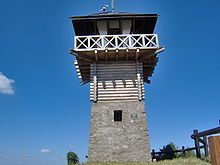 The Real Thing - A Replica
A very well done paper model
of an
ancient Roman Watch Tower in 1/87 scale (HO scale),
by
Czech
designer
Quasi
, via
Papermodelers.Sk Forum.
Perfect
for
dioramas, RPG games or school Works.
A
watchtower is a type of fortification
used in
many parts of the world
. It differs from a
regular tower
in that its primary use is
military,
and from a
turret
in that it is usually a
freestanding structure.
Its
main purpose is to provide a high, safe place from which a sentinel or guard may observe the surrounding area.
In some cases,
non-military towers, such as religious pagodas,
may also be used as
watchtowers.
Um modelo de papel muito bem feito
de uma
antiga Torre de Observação Romana
, em
escala 1/87 (escala HO)
, do designer
tcheco Quasi
, via
Forum Papermodelers.Sk. Perfeito
para
dioramas, jogos de RPG ou trabalhos escolares.
Uma torre de vigia
é um
tipo de fortificação usada em muitas partes do mundo.
Ela difere de uma
torre normal
em que a sua
principal utilização é militar
, e a partir de uma torre em que é geralmente uma estrutura auto-suficiente. Seu principal
objetivo é proporcionar um local bem seguro a partir do qual uma sentinela ou guarda pode observar a área circundante.
Em alguns casos,
torres não militares,
como os
pagodes religiosos
, também podem ser
usados ​​como torres de vigia.
Link:
Roman.Watch.Tower.Paper.Model.In.1/87.Scale.by.Quasi.via.Papermodelers.Sk
More Ancient Architectural Paper Models and Buildings related posts:
Roman Castrum In Romania - by Papermau - Download Now!
Medieval Church - by Papermau - Igreja Medieval
Old Church and Medieval Castle - by Papermau
The Clock Tower Diorama - by Papermau - Torre do Relógio