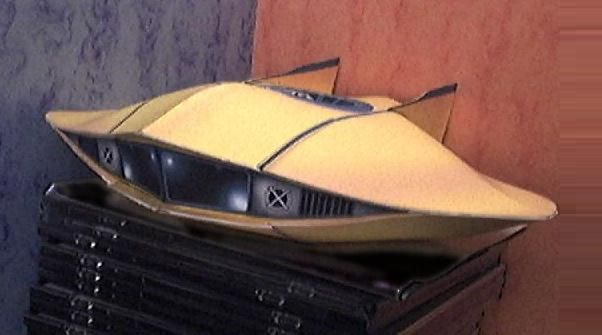 A stunning paper model of the Flying Sub, the aquatic vehicle from Voyage To The Bottom Of The Sea, 1960`s TV Series. This really cool paper model was created by designer Mike Botelho and was originally posted at J. Leslie 48 website.

Uma incrível recriação em papel do Flying Sub, o veículo aquático da série de Tv dos anos 1960 viagem Ao Fundo Do Mar. Este belíssimo modelo foi criado pelo designer Mike Botelho e originalmente postado no site J. Leslie 48.
The "Real" Thing
Voyage to the Bottom of the Sea is a 1960s American science fiction television series based on the 1961 film of the same name. Both were created by Irwin Allen, which enabled the movie's sets, costumes, props, special effects models, and sometimes footage, to be used in the production of the television series. The 110 episodes produced included 32 shot in black and white (1964–65), and 78 filmed in color (1965–68). The first two seasons took place in the then future of the 1970s. The final two seasons took place in the 1980s. The show starred Richard Basehart and David Hedison.
-
Wikipedia
Inside Flying Sub
Viagem ao Fundo do Mar é uma série de ficçaõ científica dos anos 1960, baseada em um filme.
Essa aclamada série foi criada por Irwin Allen, que cuidava de tudo, dos sets do filme, figurinos, adereços, modelos de efeitos especiais, e até dos takes a serem utilizados na produção da série de televisão.
Foram no total 110 episódios, sendo 32 em preto e branco (1964–65) e 78 coloridos (1965–68).
As primeiras duas temporadas eram ambientadas nos anos 1970 e as duas temporadas finais eram ambientadas nos anos 1980. Os astros principais eram Richard Basehart e David Hedison.
-
Wikipedia
Link:
Voyage.To.The.Bottom.Of.The.Sea.Flying.Sub.Paper.Model.by.Mike.Botelho
More Sci-fi Paper Models related posts:
Star Wars` T-65 X-Wing Starfighter - by Cemodelazil
Ultra Man Paper Model SD Style - by Ozasikiwarasi
Sci-Fi Background - Diorama - by Tamashii.Jp
Perry Rhodan - Stardust Space Ship - by Paper Aviation