A real impressive paper model
by
Noturno Sukhoi:
the
Predator Mask,
with
perfect textures.
Predator
is a
1987 American science fiction action film
directed by
John McTiernan,
starring
Arnold Schwarzenegger, Carl Weathers, Jesse Ventura, and Kevin Peter Hall.
It was distributed by
20th Century Fox
. The story follows an elite
special forces team
, led by
'Dutch' (Arnold Schwarzenegger),
on a mission to rescue hostages from guerrilla territory in
Central America.
Unbeknownst to the group, they are being hunted by a
technologically advanced form of extraterrestrial life,
the
Predator
.
Predator
was scripted by
Jim and John Thomas in 1985
, under the working title of
Hunter
.
Filming began in April 1986
and creature effects were devised by
Stan Winston.
-
Wikipedia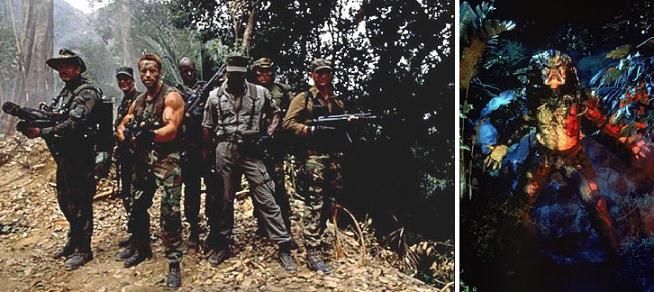 Um modelo realmente impressionante de Noturno Sukhoi
: a
Máscara do Predador
, com
texturas perfeitas.
O Predador (no original em inglês: Predator)
é um
filme americano de suspense, ficção científica e terror de 1987.
Foi feito com
18 milhões de dólares
e rendeu
60 milhões só nos Estados Unidos.
Também levou à continuação:
Predador 2.
Um pelotão do exército americano (boinas verdes)
, liderado pelo
Major "Dutch" (Arnold Schwarzenegger)
, é enviado em missão na
América Central,
para resgatar uns soldados e um ministro da
Guatemala
de guerrilheiros. A missão é realizada logo, mas descobre-se que os prisioneiros já estavam mortos, eram
agentes da CIA
(a história do ministro fora inventada pelos superiores). Então uma estranha criatura invisível começa a caçar e matar cada um do pelotão. -
Wikipedia
Link:
Predator.Head.Papercraft.by.Noturno.Sukhoi
More Sci-Fi and Movies related posts:
Darth Vader's Star Fighter 2.0 - by Sergey-Haker / Noturno-Sukhoi
District Nine`s Vehicle MNU APC In 1/35 Scale - by Tekzo / Paper Hobby
War Of The Worlds` Martian Tripod - by Cut & Paste
Dune`s Spice Harvester Paper Model - by The 4ce