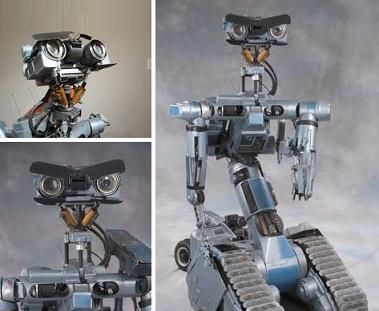 Johnny 5
is a
robot
from the
1986 film Short Circuit
and its
1988 sequel, Short Circuit 2
.
Johnny 5
was originally made for
military use
, but comes to life in a lightning-induced power surge, ultimately
rejecting its destructive programming in favor of a peaceful life.
Johnny 5
é um
robô
feito para o filme
Curto Circuíto (Short Circuit, 1986) e sua sequência de 1988
. no filme,
Johnny 5
foi originalmente feito pelo exército para uso como uma
arma de guerra,
mas após ser atingido por um raio, ele magicamente
adquire consciência
, se rebelando contra seus criadores e fugindo
em busca de uma vida pacífica.
Link:
Johnny.5.Paper.Robot.by.Randy.Padama.via.DeviantArt
More Paper Models of Robots related posts:
Super Robot - BoxZet Paper Toy Series - by Byman Studio
Articulated Paper Robots- Robôs Articulados "Mazinger"
Half-Life 2 Dog Papercraft - by GOLLUM 999 Papercraft - Robô Cão de Half-Life 2
Vintage Style Robot Paper Model - by Toki - Robô Estilo Vintage