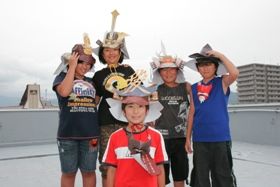 Samurai
(侍?) is the term for the military nobility of pre-industrial Japan. According to translator
William Scott Wilson
: "In
Chinese
, the character 侍 was originally a verb meaning to wait upon or accompany a person in the upper ranks of society, and this is also true of the original term in
Japanese
,
saburau
. In both countries the terms were nominalized to mean "those who serve in close attendance to the nobility," the pronunciation in Japanese changing to saburai. -
Wikipedia
More then twenty models im PDF to download for free.
Os samurais
eram os soldados da aristocracia do
Japão
entre
1100 a 1867
. Com a restauração da
Dinastia Meiji
,sua era de ouro, que já estava em declínio, chegou ao fim. Suas principais características eram a grande disciplina, lealdade e sua grande habilidade com a
katana
. -
Wikipedia
Mais de vinte modelos em PDF para download gratuíto.
Link: Samurai.Helmets.by.Yonezawa.Naoe