"This unusual version of Croquet
was invented by
Mildred Grompf, a cook in an orphanage
.
Mildred apparently went crazy one night
and was
found in the kitchen, tearing up the silverware
. When asked what she was doing, she replied
"I'm making Croquet hoops."
She then
stomped into the dining room
and
asked the children "Who wants to play Croquet?"
None of the children knew what Croquet was
, so they
didn't answer
. This further
upset Mildred,
so
she plucked out two of the children's eyeballs
before again asking
"Who wants to play Croquet?"
All the
children
now
agreed enthusiastically
, and that's how
"Cleaver Golf" was invented."
-
Ray O`Bannon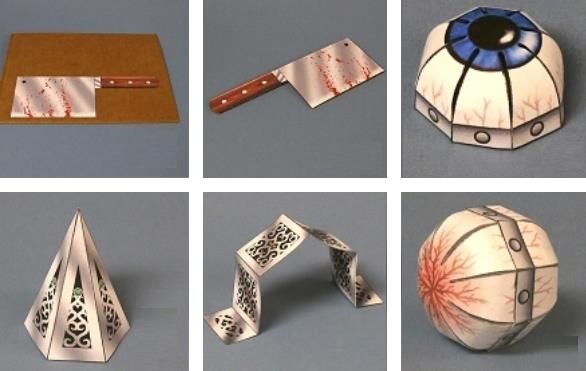 Esta versão incomum do jogo de Croquet
foi inventado por
Mildred Grompf,
cozinheira de um orfanato
.
Mildred, aparentemente, ficou louca e uma noite
foi encontrada em sua cozinha,
entortando os talheres
. Quando perguntaram o que ela estava fazendo, ela respondeu:
"Eu estou fazendo aros de Croquet"
. Em seguida, ela
foi até a sala de jantar
e perguntou às crianças
"Quem quer jogar Croquet?"
Nenhuma das crianças
sabia o que era Croquet, então nenhuma delas respondeu.
Mildred
ficou
muito chateada
, então ela
arrancou os dois olhos de uma das crianças
e tornou a perguntar
"Quem quer jogar Croquet?"
Todas as crianças agora
concordaram com entusiasmo
, e foi assim que o
"Golf Afiado" foi inventado."
-
Ray O`Bannon
Link:
Halloween.Special.Clever.Golf.Paper.Model.by.Ravensblight
More Halloween Paper Toys related posts:
Halloween Special - Friendly Frankenstein Paper Toy - by Chemical 9
Rock`n`Roll Circus - Lemon Out Of Jail - by Papermau - Download Now!
Halloween Special - Cute Halloween Paper Toys - by Kumarila
My Life Is Better Than Yours Paper Toy Series - by Marko Zubak