This very interesting paper model
picturing a
house of prisoners of war
with two
Scottish soldiers
, was created in
1915
by
German artist Joseph Scholz
. This
centenary model
somehow was
preserved
and today
can be appreciated
thanks to the
SDK Online
, which is the
virtual version of the Museum of the City of Dresden, in Germany.
I made a "cleaned" version
of this and you can
download both versions, original and cleaned, at the links below.
Este modelo de papel muito interessante
retratando uma
casa de prisioneiros de guerra
com dois
soldados escoceses
, foi criado no
longinquo ano de 191
5 pelo
artista alemão Joseph Scholz
. O modelo, com
101 anos de idade
, de alguma forma
conseguiu chegar aos nossos dias
e hoje pode ser
baixado e montado
por você, graças ao
SDK Online
, que é a
versão virtual do Museu da Cidade Dresden, na Alemanha.
Eu fiz uma versão "limpa" deste modelo
e você pode
baixar ambas as versões, original ou limpa, nos links logo abaixo.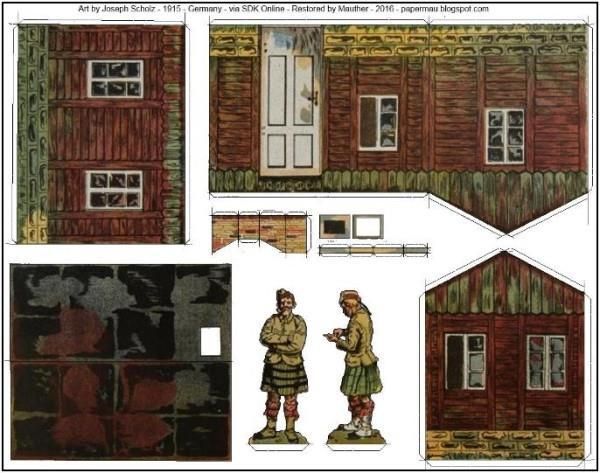 Link to Original Version:
1915`s.Scotish.Prisoners.Of.War.Diorama.by.Joseph.Scholz.Original.Version
Link to Cleaned Version:
Scotish.Prisoners.Of.War.Diorama.by.Joseph.Scholz.Cleaned.Version.by.Papermau
More Vintage Paper Models related posts:
Vintage Modeltown Church Paper Model - by Plush Possum Studio
Victorian Suburban Villa Paper Model - by Open House Miniatures
Little Vintage Circus Paper Model - by H Is For Handmade
1900`s Vintage Bazaar Paper Model - by Agence Eureka - Camelô Antigo