Here is the paper model of MASP
-
São Paulo Museum Of Art
-
ready to download!
The model occupies
four sheets of paper with pieces
and
three with instructions
. This is
not a hard-to-build model
and I think it will be
useful for Dioramas and School Works
. The
São Paulo Museum of Art (Portuguese: Museu de Arte de São Paulo, or MASP)
is an
art museum located on Paulista Avenue
in the
city of São Paulo, Brazil.
It is
well known for its headquarters, a 1968 concrete and glass structure designed by Lina Bo Bardi
, whose
main body is supported by two lateral beams over a 74 metres (243 ft) freestanding space
, considered
a landmark of the city
and a
main symbol of modern Brazilian architecture.
- read more at
MASP.Museum.at.Wikipedia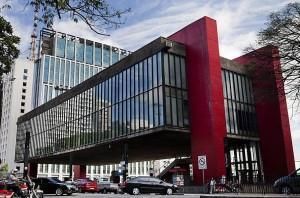 Aqui está o modelo de papel do MASP - Museu de Arte de São Paulo - pronto para download!
O modelo ocupa
quatro folhas de papel com peças
e
mais três com instruções
. Este
não é um modelo de difícil montagem
e eu creio que será útil para
Dioramas e Trabalhos Escolares
. O
Museu de Arte de São Paulo Assis Chateaubriand
(mais conhecido pelo acrônimo MASP)
é uma das
mais importantes instituições culturais brasileiras
. Localiza-se, desde
7 de novembro de 1968
, na
Avenida Paulista
, cidade de
São Paulo
, em um
edifício projetado pela arquiteta ítalo-brasileira Lina Bo Bardi
para ser sua sede.
Famoso pelo vão de mais de 70 metros que se estende sob quatro enormes pilares
, concebido pelo
engenheiro José Carlos de Figueiredo Ferraz
, o edifício é considerado um
importante exemplar da arquitetura brutalista brasileira
e
um dos mais populares ícones da capital paulista
, sendo tombado pelas
três esferas do poder executivo. O engenheiro responsável foi Isac Grobman.
- saiba mais em
Museu.do.MASP.na.Wikipedia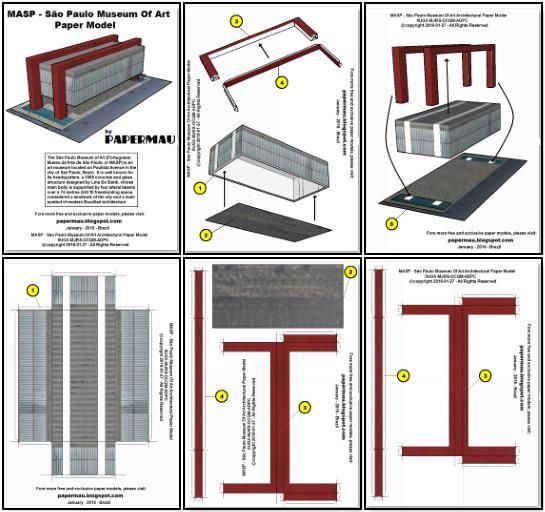 Download:
MASP.São.Paulo.Museum.Of.Art.Paper.Model.by.Papermau.Download.Now!
More Architectural Paper Models related posts:
Miniature Cliff House And Lighthouse Paper Models - by Wurlington Press
The Weekend Pic - Beijing Drum Tower Paper Model - by Seascape / Stahlhart
Arizona Style House Paper Model - by Paper Models Online
German Hunting Lodge Paper Model In 1/160 Scale - by Meineschule.De