All these paper models came from Wordsworth Model Railway
, a really great site with
several buildings, towers, train stations, offices, fire stations and houses of all types, textures, backscenes, acessories
and much more for everyone who want to build a
complete city to your trains in OO scale
.
All for free! OO gauge or OO scale (something between 1/72 and 1/76 scales)
model railways
are the
most popular standard-gauge model railway tracks in the U.K.
Between the new models you will find a
Newspaper Kiosk, a Small Weighbridge, a Platform Canopy, Pallets With Loads, a Ticket Office, some 20' Containers, a Goods Shed , a Signal Box, Hire Skip , a 60' Narrow Boat, a beautiful Grand Station, a Platform Shelter and a Toilet Building.
Todos estes modelos são do site inglês Wordsworth Model Railway
, um site incrível, repleto de
prédios de todos os tipos, tais como estações de trens, garagens, casa residenciais e comerciais, corpo de bombeiros, torres, cenários de fundo, texturas, acessórios
e muito mais, tudo em
escala OO
,
que é
a escala mais usada na Inglaterra pelos adeptos do ferreomodelismo.
Esta escala também é chamada de
escala 1/76, mas presta-se bem para modelos em escala 1/72.
Tudo de graça!
Entre os novos modelos você encontrará uma
Banca de Jornais, uma pequena Ponte de Pesagem, uma Plataforma de Passageiros, Pallets com Cargas, uma Bilheteria, Prateleiras para Pallets, um Armazém, um Posto de Sinalização, uma Balsa, uma bela Estação de Trens, uma Plataforma com Abrigo e um Mictório.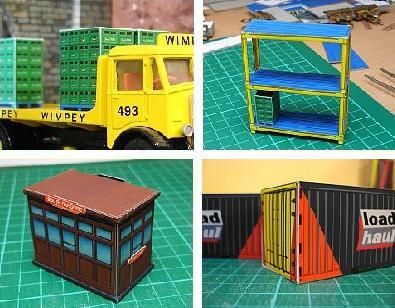 Link:
A.Lot.Of.New.Paper.Models.For.Railway.Dioramas.by.Wordsworth.Model.Railway
More Paper Models for Train Sets and Dioramas related posts:
Japanese Trains, Stations, Crossroads, Signs and More
Signs And Acessories For Train Sets And Dioramas In HO Scale - by Projekt Bastelbogen
Crossing Tower Paper Model In HO And O Scale - by Clever Models
Windmill And Gazebo In HO Scale - by Geertruidenberg