By French designer Jeron
, this is the
Yakubyogami paper toy
. In
Japanese folklore
, the
Yakubyogami
is a
possessor spirit of demonic appearance
, which brings
misery, disease and distress
in the homes who visits! To
keep him away, cook some red soy porridge on the third day of the moon.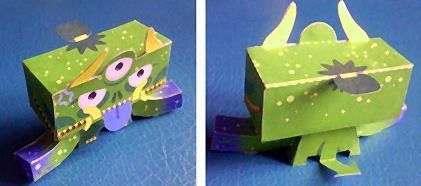 Do designer francês Jeron
, este é o
paper toy do Yakubyogami
. No
folclore japonês
, o
Yakubyôgami é um espírito possessor de aparência demoníaca
, que traz
infelicidade, doença e aflição
nas casas que visita. Para
mantê-lo afastado, cozinha-se mingau de soja vermelho no terceiro dia da lua.
Link:
Hauntings.From.Japan.Yakubyogami.Paper.Toy.by.Jeron
More Paper Models of Hauntings from Japan related posts:
Kunimitsu - Alternate Hannya Mask Paper Model - by Gankutsu-Otaku
Hauntings From Japan Series - Hitotumek Paper Toy - by Bocci
Hauntings From Japan - Kakatsu Ghost Paper Toy - by Vayashi
Hauntings From Japan Series - Kasa-Obake Paper Toy - by Bocci