I'm always visiting the French forum Le Forum En Papier
in search of
new techniques and models
and,
to my surprise
, when
I took a look
at the news in the post
of Citroen Hy by Camille
, I see that
my friend Papadenati
kindly made a
Citroen HY with Papermau logo
. He chose
vibrant colors
, it has
everything to do with the blog
. I
can not find the right words
to describe
my joy to see this model
. -
Thank you, Papadenati, for this precious model and the kindness to include Papermau in your beautiful collection of Citroen HY.
- If you want to build your own
Citroen HY Truck "Papermau" Paper Model - by Papadenati
, the
link to download
is
right below, at the end of this post.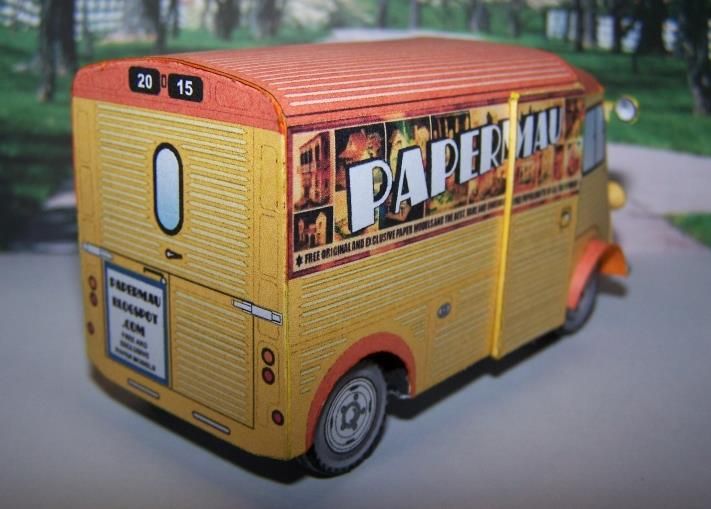 Eu estou sempre visitando o Le Forum En Papier
em busca de
novas técnicas e modelos
e, para minha surpresa, quando dei uma
olhada nas novidades no post dos Citroen Hy by Camille,
vejo que
meu amigo Papadenati gentilmente fez um Citroen HY com o logo Papermau.
Ele escolheu
cores vibrantes, que tem tudo a haver com o blog.
Eu
não consigo achar as palavras certas para descrever minha alegria ao ver este modelo
. -
Muito obrigado, Papadenati, por este precioso modelo e pela gentileza em incluir o Papermau em tua belíssima coleção de Citroens HY.
Se você também quiser montar seu próprio
Citroen HY Truck "Papermau" Paper Model - by Papadenati
, o
link para download
está logo abaixo,
no final deste post.
Link:
Citroen.HY.Truck.Papermau.Paper.Model.by.Papadenati
More Citroen HY Paper Models related posts:
Citroën HY Monster Truck Paper Model - by Atlas 83 / Camille
Citroen HY 1962 Manfriet Paper Model - by Papercrafts.It
Citroën HY "Bosch" Paper Model - by Camille & Atlas 83 - via Le Forum En Papier
Citroen HY Netherland's State Police Paper Model - by Papercrafts.It