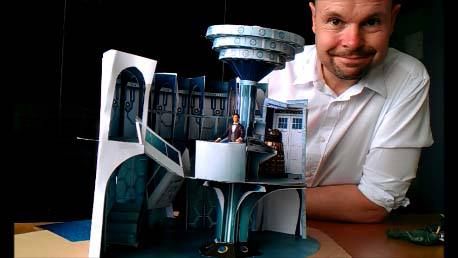 Mr. Lawrence and his Creation
By British designer Philip Lawrence, from Action Figure Theatre website, here is a really nice paper model for all fans of Doctor Who tv series. This playset represents the interior of the Tardis, for action figures in 3.75" scale.
Do designer inglês Philip Lawrence, do site Action Figure Theatre, aqui está um belo modelo de papel para todos os fãs do seriado Doctor Who. Este playset retrata o interior da Tardis e é feito para action figures na escala 3.75".
Link:
Doctor.Who.Tardis.Interior.Playset.Paper.Model.by.Philip.Lawrence
Link to Action Figure Theatre main page:
Action.Figure.Theatre.British.Sci.Fi.Paper.models.Main.Page
More Sci-Fi Paper Models related posts:
Terminator - T 101 Arnold Paper Model - by Paper Juke
Tron`s Legacy Recognyzer Paper Model - by Marco Scheloske
Predator Head Papercraft In 1 / 1 Scale - by Noturno Sukhoi
Sci-Fi Spaceships - by Jay's Box of Sci-Fi Card Toys