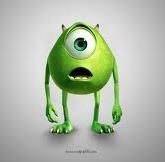 The "Real" Thing
From Monsters, Inc. movie, here is Mike Wazoski, in a perfect paper version created by Italian designer Lord Bruco.
Monsters, Inc. is a 2001 American computer-animated comedy film directed by Pete Docter, produced by Pixar Animation Studios and released by Walt Disney Pictures. - Wikipedia
In the downloadable file you will find the model in two formats: PDF and PDO (Pepakura).
You can use the PDO format, which is a model that can be viewed in 3D using Pepakura Viewer Free Version program, as a guide to assemble this model.
If you don`t have this program yet, you will find the link to download it at the end of this post.
Da animação Monstros S/A, eis aqui Mike Wazoski, em uma perfeita versão em papel criada pelo designer italiano Lord Bruco.
Monsters, Inc. (Monstros S.A. (título no Brasil) ou Monstros e Companhia (título em Portugal)) é um filme de animação e comédia americano de 2001, produzido pela Pixar Animation Studios em parceria com a Walt Disney Pictures, com direção de Pete Docter. - Wikipedia
No arquivo para baixar você encontrará o modelo em dois formatos: PDF e PDO (Pepakura).
Você pode usar o formato PDO, que é um modelo que pode ser visto em 3D usando-se o Pepakura, como guia na montagem deste modelo. Se você ainda não tem o Pepakura Viewer Versão Gratuíta, o link para baixá-lo encontra-se logo abaixo.
Link to download the model:
Monsters.Inc.Mike.Wazoski.Papercraft.by.Lord.Bruco
Link to Pepakura Viewer Free Version:
Pepakura.Viewer.Free.Version.Official.Page
More Paper Model Characters from Movies and Animations related posts:
Disney`s Wreck-It Ralph 3D Paper Toy - by Spoonful
Ice Age - Scrat - The Prehistoric Chipmunk Paper Model - by Elso Craft Museo
Toy History - Woody Marionette Paper Toy - by Spoonful
Star Wars - Luke Skywalker Jedi Paper Model - by Noturno Sukhoi