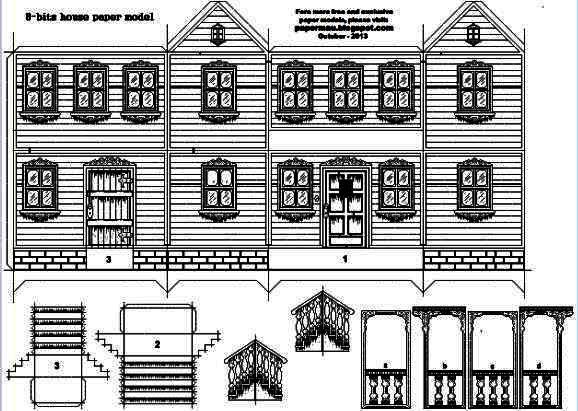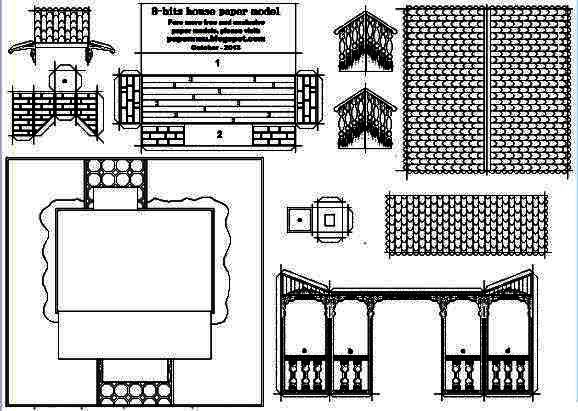 I propose something different: download the 8-Bits House Paper Model, open the templates with MsPaint and easily color it the way you want. You will see it is very easy: using the Paint Bucket Tool just select your favorite color and paint the parts you want. Clicking on the walls you will paint all the walls in one time. The same with the roof and doors and some parts of the windows. Complete the details varying colors, always using only the Paint Bucket Tool. Save the template, close MsPaint, open the model in your favorite image viewer and you are ready to print and build your very own 8-Bits House Paper Model! Save your work under a different name, so you still have the original model in black and white to color as many times as you want.
An Example What You Can Do - Um Exemplo Do Que Você Pode Fazer
Eu proponho algo diferente: baixe este modelo de papel da Casa em 8-Bits em Preto e Branco, abra o modelo no MsPaint e usando a ferramenta Balde de Tinta facilmente pinte a casinha do seu jeito. Você verá que é muito fácil e divertido: usando o Balde de Tinta, escolha suas cores favoritas e vá pintando as partes que deseja. você notará que pintado uma das paredes, todas as outras irão se colorir também. o mesmo acontece com os telhados, as portas e algumas partes das janelas. complete os outros detalhes variando as cores, sempre usando apenas o Balde de Tinta. Salve seu trabalho e pronto. Abra o modelo no seu visualizador de imagens favorito, imprima e monte a sua Casa em 8-bits Exclusiva!
Salve seu trabalho com um nome diferente, assim você continuará tendo o modelo original em branco e preto para colorir quantas vezes quiser.
Download (Directly from Google Docs):
Color.Your.Own.8.Bits.House.Paper.Model.With.MsPaint.by.Papermau
More Papermau Paper Models related posts:
Ancient Temple Paper Model - by Papermau - Download Now!
Lunch-O-Matic Restaurant Paper Model - by Papermau - Download Now!
Suburbia Diorama - by Papermau - Download Now!
Swiss Wood Cabin - by Papermau - Cabana de Madeira Suíça - Download Now!