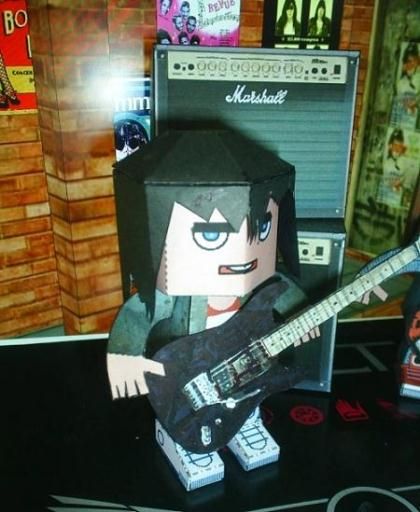 Lemon is back! If you follow the blog, you should know that Lemon was caught with a guitar from a famous rockstar from the 80s. The lawyers of this legend of Rock`n`Roll gave a complaint to the Digital Millennium Copyright Act (DMCA) and the blog post was removed by Blogger. I let Lemon in jail for a few days for him to learn that we should not take what is not ours. I paid his bail this morning, but only after he promised he'll never do something like this again. Let's see if he learns his lesson now ....
Lemon está de volta! Se vocês acompanham o blog, vocês devem saber que Lemon foi pego com uma guitarra de um famoso rockstar dos anos 80. Os advogados do cara deram queixa à Lei de Direitos Autorais digitais do Milênio (DMCA) e o post foi removido do blog pelo próprio Blogger. Eu deixei Lemon na cadeia por alguns dias para que ele aprenda que não devemos pegar o que não é nosso. Paguei sua fiança hoje de manhã, mas só depois que ele prometeu que nunca mais vai fazer algo como isto novamente. Vamos ver se ele aprende a lição agora....
Lemon and Moonjava , together once again, for the sake of Rock `n` Roll!!!
Download:
Rock.n.Roll.Circus.Lemon.Out.Of.Jail.by.Papermau.Download.Now
More Rock`n`Roll Circus Paper Models related posts:
Rock`n`Roll Circus - Moonjava, The Bass Player - by Papermau
Rock`n`Roll Circus - The Beatles Kombi - Early Years - by Papermau
Rock`n`Roll Circus - Nirvana Kombi - by Papermau
Rock`n`Roll Circus - Ramones Kombi - by Papermau