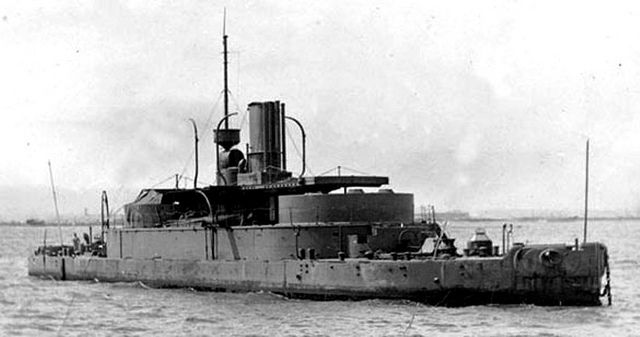 The Real Thing
The Cerberus
was ordered in 1868 by the
Colony of Victoria
in pre-
Federation Australia
to provide protection for Port Phillip.
Cerberus
was the first major warship to rely on steam propulsion alone. She was a breastwork monitor, her turrets being raised on an armoured breastwork to improve her sea-keeping.
Cerberus
arrived in Port Phillip in 1871 and never left. Sold for scrap in 1925, she was sunk as a breakwater in the bay in 1926. Various efforts have been made to raise and preserve her, but time is now running out fast. More information on the current state of the ship can be found at :
http://www.cerberus.com.au
.
O Cerberus
foi construído pela
Colony of Victoria
inglesa e mandado para servir em 1868 na então colonizada Austrália, prestando proteção ao Porto Phillip.
Cerberus
foi o primeiro navio da primeira grande guerra a contar com propulsão a vapor. Ele foi uma espécie de encouraçado, com sua amuradas blindadas, para aguentar muito tempo sem manutenção. O
Cerberus
chegou e Porto Phillip em 1871 e nunca mais saiu de lá. Vendido para sucata em 1925, ela foi afundado como quebra-mar na baía em 1926.
Diversos esforços foram feitos para trazê-lo à tona e preservá-lo, sem sucesso,enquanto ele se deteriora rapidamente. Mais informações sobre o estado atual do navio pode ser encontrada em:
http://www.cerberus.com.au
.
Link:
Boat.Cerberus.Paper.Model.by.Paper.Shipwright
If you like this post, please rank it on Google - It`s free.
Se você gostou deste post, por favor vote no Google +1. Não custa nada e melhora o ranking do Papermau na busca do Google.