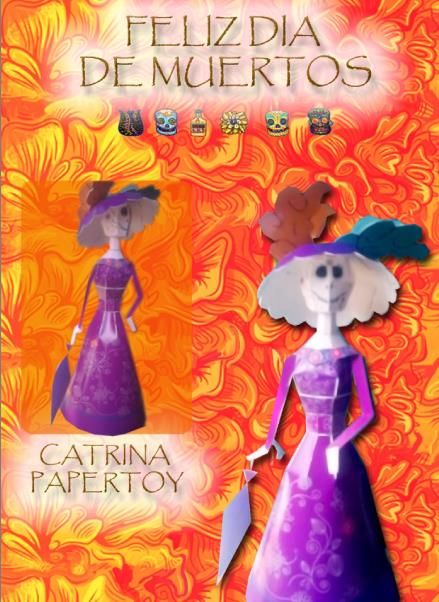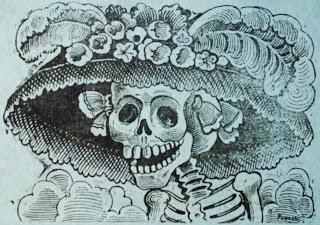 La Catrina Original, de Jose Guadalupe Posada
This slender lady paper toy called Catrina is a creation by Mexican designer Alicia Rubio, from Design Factory Studio website.
La Calavera Catrina (Elegant Skull) is a 1910–1913 zinc etching by famous Mexican printmaker, cartoon illustrator and lithographer Jose Guadalupe Posada. The image depicts a female skeleton dressed only in a hat befitting the upper class outfit of a European of her time. Her chapeau en attende is related to French and European styles of the early 20th century. She is meant to portray a satirization of those Mexican natives who, Posada felt, were over embracing European traditions of the aristocracy in the pre-revolutionary era. She in particular has become an icon of the Mexican Dia de los Muertos, or Day of the Dead.
-
Wikipedia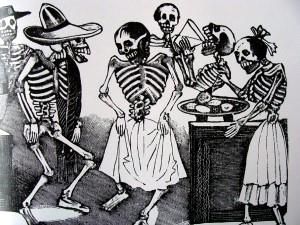 Calavera Party
Esta simpática e esguia senhora é Catrina, uma criação da designer Mexicana Alicia Rubio, do site Design Factory Studio.
La Catrina de los toletes, na cultura popular mexicana, é a representação humorística do esqueleto de uma dama da alta sociedade. É uma das figuras mais populares da Festa do dia dos mortos no México. A palavra catrina é a variante feminina da palabra catrín, que significa dândi em espanhol. O personagem se caracteriza como um esqueleto de mulher usando um chapéu, como distintivo da alta sociedades do início do século XX e tem uma função de memento mori destinado a lembrar que as diferenças sociais não significam nada, diante da morte.
As origens da Catrina remontam às festas dos mortos pré-colombianas. Seu nome vem de La Calavera de la Catrina gravura do mexicano José Guadalupe Posada (1852-1913), água-forte sobre zinco, que faz parte de uma série de calaveras (caveiras). O precursor dessas representações humorísticas de figuras contemporâneas sob a forma de esqueletos, geralmente acompanhadas de um poema, foi Manuel Manilla.
-
Wikipedia
Link:
Dia.De.Los.Muertos.Catrina.Paper.Toy.by.Alicia.Rubio
More Dia de los Muertos Paper Models related posts:
Halloween Special - Dia De Los Muertos Party Paper Models - by Maureen Scance
Halloween Special - Dia de los Muertos Candy Box - by Shala Kerrigan
Halloween Special - Day Of The Dead Paper Doll - by Jacque Davis