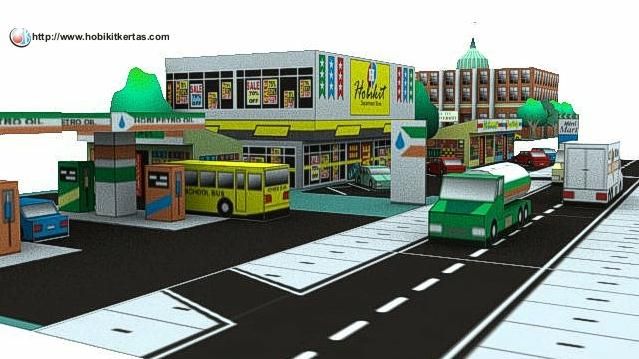 "The Retail business in the Hobicity
are the closest to the
neighborhood residential (already posted here in the blog. Link at the end of this post).
These set contain the
city buildings
that closest to
accommodate daily needs of the HobiCitizen,
which served the
day-to-day needs of goods and services.
The building set
are released with accompanying vehicles related to these buildings set. You will find them in the three different models, such as a
Mini-market, Gas station (with mini-market) and a small Department store.
Each of these are accompanied by
three different vehicle, a mobile Ice cream truck, a Cargo truck and a Fuel tank truck
which will serves each of the building within the city. The
Ice cream truck
can be considered as a
mobile store which served the younger community".
-
Hobikitkertas

Esta é a
Zona Conmercial
de
Hobicity
e fica próxima à
Zona Residencial (já postada aqui no blog. Link no final doeste post).
ela é bem completa com suas lojas de conveniências e produtos para o dia-a-dia, posto de gasolina e até um
caminhãozinho de sorvetes
. Um
belo trabalho
do site
indonésio Hobikitkertas
(
gostaria de postar aqui o nome do designer, mas não achei em nenhum lugar do site
).
Link:
Retail.Business.Diorama.Papercraft.by.Hobikitkertas.Centro Comercial
More Architecture, Buildings and Dioramas related posts:
HobiCity Project - Urban Neighbourhood - by Hobikit Kertas
Buildings For Train Sets In OO Scale - by Wordsworth Model Railway
Gasshoku Japanese House - by Canon - Casa Tradicional Japonesa
European Medieval City - by Kaukapedia - Cidade Medieval Européia