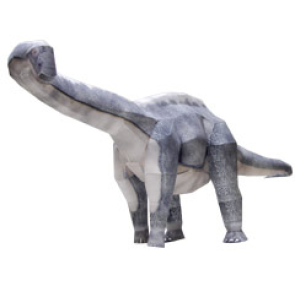 Artistic Interpretation Of An Apatosaurus
Apatosaurus,
also known by the popular but scientifically deprecated synonym
Brontosaurus,
is a genus of
sauropod dinosaur
that lived from about
154 to 150 million years ago,
during the
Jurassic Period
(
Kimmeridgian
and early
Tithonian
ages).
It was one of the largest land animals that ever existed,
with an average length of
23 m (75 ft)
and a mass of at least
23 metric tons (25 short tons
). The composite term
Apatosaurus
comes from the
Greek
names
apate /apatelos
meaning
"deception"/"deceptive"
and
sauros
meaning
"lizard"
; thus,
"deceptive lizard"
.
Othniel Charles Marsh
gave it this name because he regarded the chevron bones as similar to those of some
mosasaurs,
members of a group of prehistoric marine lizards.
The cervical vertebrae
were less elongated and more heavily constructed than those of
Diplodocus
and the bones of the leg were much stockier (despite being longer), implying a more robust animal. The tail was held above the ground during normal locomotion. Like most
sauropods, Apatosaurus
had only a single large claw on each forelimb, with the first three toes on the hind limb possessing claws.
Fossils
of these animals have been found in
Nine Mile Quarry and Bone Cabin Quarry
in
Wyoming
and at sites in
Colorado, Oklahoma and Utah (USA)
. -
Wikipedia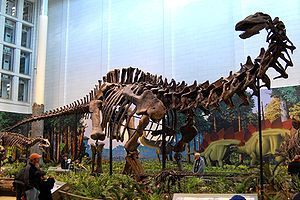 Apatosaurus`Skeleton At Carnegie Museum Of
Natural History - USA
Apatossauro
(
Apatosaurus
, do latim
"lagarto falso"
), também chamado de
brontossauro
, foi uma espécie de
dinossauro herbívoro e quadrúpede
que viveu durante o período
Jurássico.
Media até
23 metros de comprimento, 10 metros de altura e pesava em torno de 35 toneladas.
Os
fósseis
deste
dinossauro
foram encontrado na
América do Norte.
O
apatossauro
foi nomeado em
1877
por
Othniel Charles Marsh.
Após seu descobrimento, o
apatossauro
foi considerado o maior dos animais terrestres que já viveram sobre a terra. Entretanto várias pesquisas e escavações demonstraram a existência de espécies muito maiores, superando o
apatossauro
em tamanho e peso. Algumas delas, como o
argentinosaurus,
que viveram na
América do Sul.
O primeiro
apatossauro
foi descoberto no ano de
1900
por
Elmer S. Riggs, no Colorado, Estados Unidos.
Sendo um
dinossauro saurópode,
suas patas eram firmes como colunas e lembravam patas de elefantes. Possuíam pescoço e caudas notavelmente compridos, porém um cérebro diminuto em relação ao corpo. Estes
dinossauros
viviam cerca de 100 anos e atualmente cientistas e paleontólogos passaram a classificar os
gigantes saurópodes
como
Gigantotermicos (Gigantothermy)
pois acreditam que eles possuíam uma maneira distinta de manter a temperatura corporal, uma vez que se diferenciavam exageradamente de espécies atuais ou mesmo de espécies que viveram durante sua própria época. Esta espécie de
dinossauro
cativou a imaginação de toda a humanidade. Assim, em termos de popularidade, este
"mascote"
da imaginação permanece reinando na cultura de entretenimento e imaginação do
Homo sapiens.
-
Wikipedia
Apatosaurus At Chicago Field Museum - Photo by Joe May
Link:
Dinosaur.Papercraft.Apatosaurus.by.Canon
More Dinosaurs related posts:
Dinosaur Papercraft - Supersaurus - by Canon - Superssauro - Dinossauro De Papel
Dinosaur Papercraft - Stegosaurs - by Canon - Estegossauro - Dinossauro De Papel
Tiranossaurus Rex Fossil - by Paperm-Japan