Like all great inventions and ideas
, this is simple, but
brilliant
!
Mr. Yamamoto
, from
Time Tripper
give to us a little gem of paper, a very unique model: a minimal diorama
( 7 cm x 7 )
cm of a train, that moves with a
one dollar clockwork engine
.
I use the module
of a familiar 100 yen clock for power. A figure moving steadily every one second is a very pretty truck train. -
Yamamoto
Como todas as grandes invenções e idéias
, esta é simples, mas
genial
!
O Sr.
Yamamoto
, da Time Tripper nos brinda com essa pequena pérola de papel, um modelo único e incomum:
Um diorama pequenino ( 7 cm x 7 cm ), onde circula um trenzinho movido pelo mecanismo de um relógio, desses vendidos em casas tipo
tudo por um real
. Encontrei um perto de casa por R$2,50.
Nas suas próprias palavras: - Usei um mecanismo de relógio de 100 yens. A figura se movendo de segundo em segundo é um pequeno comboio ferroviário. -
Yamamoto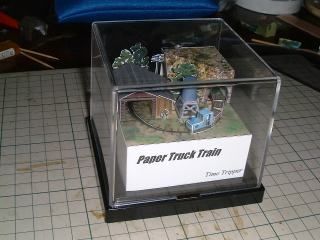 Link:
Moving Train Diorama - by Time Tripper