Morris Acoustic Guitar W 40
-
This acoustic guitar
was made in
Japan
around 1979 specifically for the
Japanese
market.
An acoustic guitar
is a
guitar
that uses only
acoustic
sound board. The air in this cavity resonates with the vibrational modes of the string and at low frequencies, which depend on the size of the box, the chamber acts like a Helmoltz resonator, increasing or decreasing the volume of the sound again depending on whether the air in the box is moving in phase or out of phase with the strings. When in phase, the sound is increased by about 3 decibels and when in opposing phase, it is decreased about 3 decibels. As a Helmholtz resonator, the air at the opening is vibrating in or out of phase with the air in the box and in or out of phase with the strings. These resonance interactions attenuate or amplify the sound at different frequencies, boosting or damping various harmonic tones. Also, the air in the box is coupled to the resonance of the top plate. Together, which cause further interactions. The back of the guitar will also vibrate to a lesser extent, driven by the air in the cavity. Some sound is ultimately projected through the sound hole (some variants of the
acoustic guitar
omit this hole, or have f holes, like a violin family instrument). This sound mixes with the sound produced by the front face of the soundboard. All these complex air coupling interactions, along with the resonant properties of the panels, are a key reason that different
guitars
will have different tonal qualities. The sound is a complex mixture of harmonics that give the guitar its distinctive sound. -
Wikipedia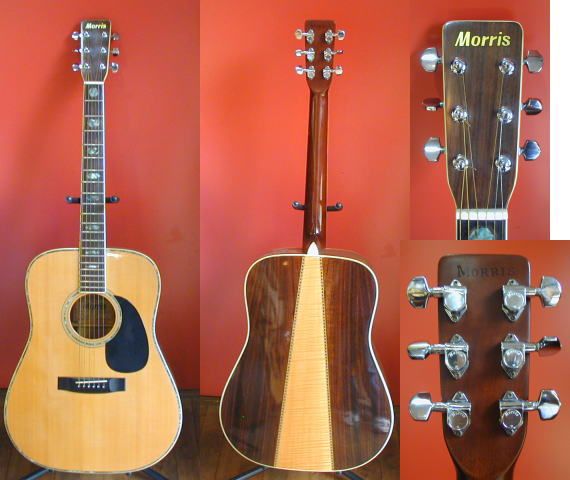 The Real Thing
Violão Acústico Morris W 40
- Este violão acústico foi produzido no Japão por volta de 1979, especialmente para o próprio mercado japonês.
A guitarra clássica
, (no Brasil conhecido como
violão
e em
Portugal
como
viola
), é uma
guitarra acústica
com cordas de nylon ou aço, concebida inicialmente para a interpretação de peças de música erudita. O corpo é oco e feito de várias madeiras diferentes. O braço possui trastes que a tornam um instrumento temperado. As versões mais comuns possuem seis cordas de nylon, mas há violões com outras configurações, como o violão de sete cordas e o violão baixo, com 4 cordas, afinadas uma oitava abaixo das 4 cordas mais graves do violão.
A sua configuração moderna e desenho foram confeccionados na
Espanha
. Presente hoje em quase todos os géneros musicais populares, sua abrangência só se compara à do piano. Ao longo do tempo este instrumento sofreu grandes evoluções e, hoje em dia, possui uma grande variedade de formatos e tamanhos, cada qual mais apropriado a um estilo de execução. Entre os géneros que mais utilizam a
guitarra
clássica estão a música erudita, o flamenco espanhol, o vals peruano, a cumbia colombiana, o joropo venezuelano, as rancheras mexicanas, a MPB, o fado portugués, a modinha, a morna, o choro, a bossa nova, as gaitas, entre outros. -
Wikipedia
Link:
Morris.Acoustic.Guitar.Paper.Model.by.David.Co
If you like this post, please rank it on Google
Se você gostou deste post, por favor vote no Google +1. Não custa nada e melhora o ranking do Papermau na busca do Google.