In this japanese site
you will find a lot of models of
doll houses
and
furniture
. Very well done and detailed. The girls will love it.
Neste site japonês
você encontrará muitos modelos de
casas de bonecas
, assim como suas respectivas mobílias e utensílios domésticos. As meninas irão adorar.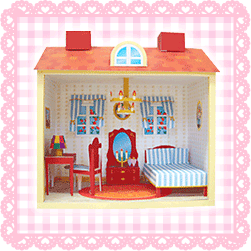 A dollhouse is
a toy home, made in miniature. For the last century,
dollhouses
have primarily been the domain of children but their collection and crafting is also a hobby for many adults.
Today's
dollhouses
trace their history back about four hundred years to the baby house display cases of
Europe
, which showed idealized interiors. Smaller doll houses with more realistic exteriors appeared in Europe in the 18th century. Early
dollhouses
were all handmade, but following the
Industrial Revolution
and
World War II
, they were increasingly mass produced and became more standardized and affordable.
Contemporary children's play
dollhouses
are commonly in
1:18
(or 2/3") scale, while
1:12
(or 1") scale is common for dollhouses made for adult collectors.
The term
dollhouse
is common in the
United States
and
Canada
. In UK usage,
dolls' house
or
dollshouse
is usual.
Casa de boneca
é a tradução literal do termo
Dollhouse
inglês.
As
casas de bonecas
são reproduções de casas em miniatura. A escala mais usada é a 1/12.
A primeira casa de bonecas de que se tem notícias em
1558
; o
Duque da Baviera
,
Albrecht V
, mandou que cosntruir uma casa em miniatura para sua filha, porém dada a riqueza do detalhamento e realismo da obra, o próprio Duque acabou por incluir a casa em sua coleção de obras de arte. Esta casa foi destruida em
1674
em um incendio no palácio do Duque.
A casa de bonecas mais famosa do mundo
é a
Queen Mary's
; esta casa foi projetada por
Sir Edwin Lutyens
, em
1924
, e o seu paisagismo feito por
Gertrude Jekyll
.
A casa, construída em escala 1/12, é completa e funcional,tendo funcionando a parte hidráulica e elétrica, bem como dois elevadores.
Esta casa continua intacta e pode ser vista no castelo de
Windsor
na
Inglaterra
.
Link:
Doll.Houses.With.Furniture.by.Kids.Goo.Ne.Jp