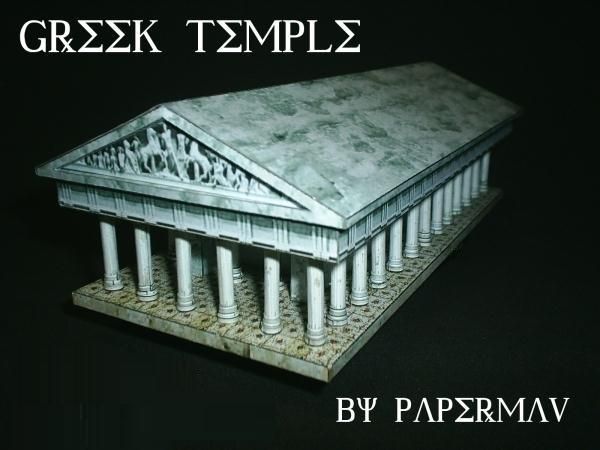 Alerted by a friend of the blog, the Italian modeler Christian Ortone, that was missing a part of the roof in this Greek Temple, I reviewed the entire model and made ​​two versions of the missing part, with different textures. I did also instructions with photos that had not been made yet and turned the templates for the format. PDF, which eliminates the chance of printing the parts in different sizes. Now you can choose if use .pdf or .jpg formats. This paper model was originally posted here in the blog in June 23, 2011.
Alertado por um amigo do blog, o modelista italiano Christian Ortone, de que faltava uma parte do telhado deste Templo Grego no arquivo para download, eu revisei todo o modelo e fiz duas versões da parte que faltava, com texturas diferentes. Eu fiz também as instruções com fotos, que não haviam sido feitas ainda e transformei o modelo para o formato .PDF, o que elimina a chance de imprimir as peças em tamanhos diferentes. Agora você pode escolher se imprime o modelo em .pdf ou .jpg, os dois formatos estão incluídos no arquivo. Este modelo foi originalmente postado aqui no blog em 23 de junho de 2011.
Download:
Toys.In.The.Attic.by.Papermau.Greek.Temple.Paper.Model
About Toys In The Attic by Papermau:
Toys in the Attic is the third album by American rock band Aerosmith, released in April 1975. Is also a name of a 1963`s drama movie with Dean Martin and Geraldine Page. Now, because this is a really nice name, this will be the name of a new session of Papermau`s blog. In this session I will share old original and exclusive paper models posted more than a year here in the blog. It's a way of not letting these models get lost among over 3,000 posts in a year and a half of existence of the blog.
Toys in the Attic (Brinquedos no Sotão) é o nome do terceiro album da banda norte-americana de rock Aerosmith, lançado em 1975. É também o nome de um drama para o cinema de 1963 chamado aqui no Brasil de Na Voragem das Paixões, que contava no elenco com Dean Martin (o parceiro do Rat Pack e de Jerry Lewis) e Geraldine Page. Agora, porque eu acho esse um título muito legal, Toys in the Attic será o nome de uma nova sessão do blog Papermau. Nesta sessão eu publicarei antigos modelos de papel originais e exclusivos postados há um ano ou mais. Esta é a maneira que encontrei para que estes modelos não fiquem perdidos e esquecidos entre mais de três mil postagens feitas em um ano e meio de existência do blog.
More Toys In The Attic related posts:
Toys In The Attic - by Papermau - Desktop Architecture - Series 04 Brazilian Colonial Churches
Toys In The Attic - by Papermau - Chevrolet Chevelle 1970 - Dark Version
Toys In The Attic - by Papermau - Brick Street Diorama
Toys In The Attic - by Papermau - Volkswagen Transporter Van Brazilian Kombi