Leonardo Da Vinci's fascination with machines began when he was merely a boy.
His
earliest sketches
depict the inner workings of
various machines
from his era. Eventually, his creativity led to the outlines of
flying machines,
weapons and musical instruments
.
Leonardo
first became enamored with the idea of flight in the 1480s.
He designed what is called the
ornithopter flying machine.
Although
the invention never came to fruition during his time,
many believe that the
helicopter was indeed inspired by Da Vinci
.
His creations may also have given rise to today's hand glider and parachute.
-
davincilife.com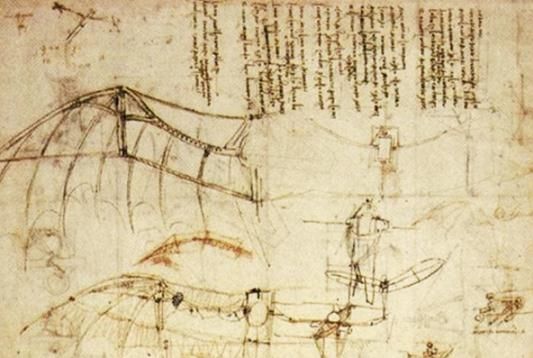 Leonardo Da Vinci, em 1485, projetou seu ornitóptero
.
Da Vinci
era um
estudioso e paciente observador do vôo dos pássaros
e como não poderia ser diferente,
projetou um aparelho feito com asas que batiam, ligadas aos braços.
Seu ornitóptero era uma espécie de armadura de pássaro para um homem.
Tudo indica que
Da Vinci nunca tenha tirado seu desenho do papel,
mas não é difícil prever que
jamais funcionaria: o bater de asas não é forte o suficiente para sustentar o peso de um homem, muito menos com o peso adicional de asas e demais peças do aparelho.
Mas isto ainda
não estava claro para os homens da época.
-
silverioortiz.kit.net
Link:
Leonardo.Da.Vinci`s.Ornithopter.Paper.Model.by.Rozhlas
More Inventions, Science and School Work Paper Models related posts:
1790`s Cassini's Terrestrial Globe - by Paper Pino - Globo Terrestre De Cassini
Anatomical Model - Torso Paper Model - by Horst Kiechl
Da Vinci`s Mechanical Hammer - by Paper Pino - Martelo de Da Vinci
Four Volcanoes - by British Geological Survey - Quatro Vulcões