A single sheet model
, in two versions:
color and black and white.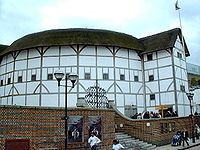 The Globe Theatre
was a theatre in
London
associated with
William Shakespeare
. It was built in
1599
by
Shakespeare's playing company, the Lord Chamberlain's Men
, and was destroyed by fire on
29 June 1613
. A second
Globe Theatre
was built on the same site by
June 1614 and closed in 1642
.
A modern reconstruction of the
Globe
, named
"Shakespeare's Globe"
, opened in
1997
, approximately 750 feet (230 m) from the site of the original theatre. -
Wikipedia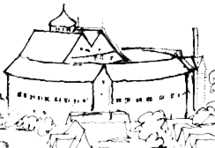 The second Globe, preliminary sketch (c. 1638)
for Hollar's 1647 Long View of London
Globe Theatre ou The Globe
é um teatro
inglês
construído em
1599
e destruído em
1613
por um incêndio, sendo reconstruído em
1614
e fechado em
1642.
Uma moderna construção foi erguida e reinaugurada em
1997
, sendo agora chamada de
Shakespeare's Globe Theatre ou New Globe Theatre.
O
Globe
original foi construído em
1599
por
Peter Streete
na época elisabetana, em
Southwark
, numa área chamada
Bankside
, próxima ao
Rio Tâmisa
, com as estruturas do primeiro teatro inglês –
The Theatre
-, erguido em
1576
pelo ator
James Burbage
e demolido em
1598
depois de ter sua licença cassada.
William Shakespeare
tornou-se um de seus sócios, transformando-o em arena para as representações de peças como
Hamlet e Rei Lear
. Fechado em
1642
, após a vitória dos puritanos liderados por
Oliver Cromwell
na
Guerra Civil Inglesa (1642-1649),
o teatro seria reconstruído e reinaugurado em
1997.
A reconstituição das características originais do
Globe
foi possível graças a pesquisas arqueológicas que em
1989
descobriram suas fundações e as ruínas do
Rose Theatre
, construção da mesma época. -
Wikipedia
Link:
Shakespeare.Globe.Theatre.by.Paper.Toys.Com
More Architecture and Buildings related posts:
Six Medieval Churches - by Norbtach - Seis Igrejas Medievais
Victorian House Model - by Scenery Builder - Casa Vitoriana
Desktop Architecture - Serie 02 - by Papermau