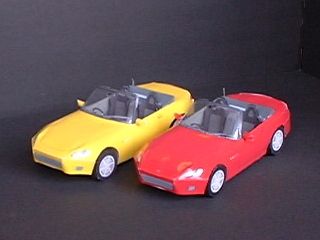 The Real Thing
The Honda S2000
is a
roadster
that was manufactured by the
Japanese
automaker
Honda Motor Company
. It was launched in April 1999 and was created to celebrate the company's 50th anniversary. The car was first shown as a concept at the
Tokyo Motor Show
in 1995, following which it was launched in world markets in 1999. The
S2000
is named for its engine displacement of 2 L, carrying on in the tradition of the
S500, S600,
and
S800
roadsters
of the 1960s. Several revisions were made throughout the car's lifetime, including changes to the engine, gearbox, suspension and interior and exterior. Officially two variants exist: the initial launch model was given the chassis code
AP1
, while the
AP2
designation was given to vehicles produced from mid-2003 onwards. Though cosmetically similar, the
AP2
incorporated significant changes to the drivetrain and suspension. Production of the
S2000
ceased in June 2009.
O Honda S2000
é um
roadster
produzido pela
Honda Motor Company
desde Abril de 1999. Foi criado para comemorar o 50º aniversário da empresa e dá continuidade à tradição dos
roadster
ligeiros modelo "S", como o
Honda S600
e o
Honda S800
. Tal como os anteriores modelos S, o
nome S2000
deriva da cilindrada do motor, que são aproximadamente 2000 cc. Ainda que tenha sido posteriormente lançado um modelo com motorização de 2200 cc
(F22C1)
em 2004, foi mantido o nome.
Desde o seu lançamento em 1999 até 2003, os
S2000
s foram produzidos na fábrica
Honda
de Tochigi. A partir dessa data, foram sendo fabricados na fábrica de
Suzuka
até 2009.
Link:
Honda.S.2000.Paper.Car.by.SPPM
If you like this post, please rank it on Google - It`s free.
Se você gostou deste post, por favor vote no Google +1. Não custa nada e melhora o ranking do Papermau na busca do Google.