Mr. Ray Morris
designed all those little pearls. There are seven trains to download, more one open wagon, a base with rails for the locos and a signal cabin.
O Sr. Morris desenhou
todas estas pequenas pérolas. Há sete modelos de trens para baixar, mais um vagão aberto, base com trilho para os trens e até uma cabine de sinalização.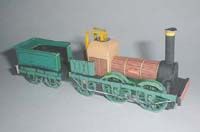 Link:
Old.Locomotives.by.Ray.Morris