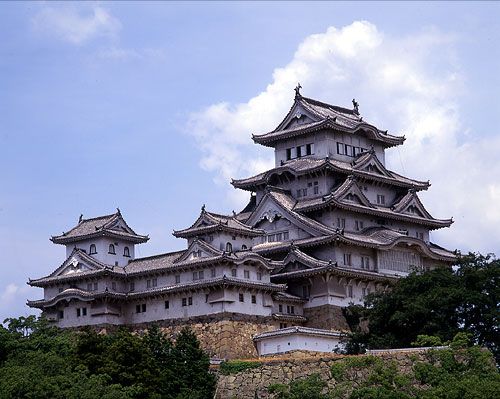 The Real Thing
Himeji Castle is a hilltop Japanese castle complex located in Himeji in Hyōgo Prefecture. The castle is regarded as the finest surviving example of prototypical Japanese castle architecture, comprising a network of 83 buildings with advanced defensive systems from the feudal period. The castle is frequently known as Hakurojō ("White Egret Castle") or Shirasagijō ("White Heron Castle") because of its brilliant white exterior and supposed resemblance to a bird taking flight.
Himeji Castle dates to 1333, when Akamatsu Norimura built a fort on top of Himeyama hill. The fort was dismantled and rebuilt as Himeyama Castle in 1346, and then remodeled into Himeji Castle two centuries later. Himeji Castle was then significantly remodeled in 1581 by Toyotomi Hideyoshi, who added a three-story castle keep. In 1600, Tokugawa Ieyasu awarded the castle to Ikeda Terumasa for his help in the Battle of Sekigahara, and Ikeda completely rebuilt the castle from 1601 to 1609, expanding it into a large castle complex. Several buildings were later added to the castle complex by Honda Tadamasa from 1617 to 1618. For over 400 years, Himeji Castle has remained intact, even throughout the extensive bombing of Himeji in World War II, and natural disasters such as the 1995 Great Hanshin earthquake.
Himeji Castle is the largest and most visited castle in Japan, and it was registered in 1993 as one of the first UNESCO World Heritage Sites in the country. The area within the middle moat of the castle complex is a designated Special Historic Site and five structures of the castle are also designated National Treasures. Along with Matsumoto Castle and Kumamoto Castle, Himeji Castle is considered one of Japan's three premier castles. In order to preserve the castle buildings, it is currently undergoing restoration work that is expected to continue for several years. - Wikipedia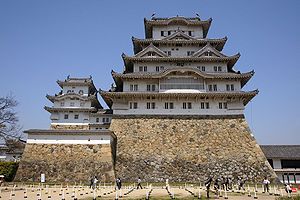 The Main Tower, Inspiration For This Paper Model
O Castelo de Himeji
foi concebido e construído durante a era
Nanboku-cho
do
Período Muromachi
. Nessa época, era chamado de
Himeyama-jo
(Castelo Himeyama). Em
1331
,
Akamatsu Sadanori
planejou um castelo na base do Monte
Himeji
, onde
Akamatsu Norimura
havia construído o
Templo de Shomyoji.
Depois da queda de
Akamatsu
, durante a
Guerra de Kakitsu
, o
Clã Yamana
tomou conta, por um curto periodo, dos planos do castelo; a família
Akamatsu
regressou depois da
Guerra de Ōnin.
Em 1580
,
Toyotomi Hideyoshi
tomou controle do maltratado castelo, e
Kuroda Yoshitaka
construiu uma torre com três andares. Depois da
Batalha de Sekigahara
, em
1601
,
Tokugawa Ieyasu
concedeu o
Castelo de Himeji
a
Ikeda Terumasa
, o qual empreendeu um projeto de expansão que duraria nove anos, o qual trouxe ao castelo, podemos dizer, a sua forma atual.
"Apenas o portão Este de uma secção da segunda muralha"
sobrevive do periodo anterior . As últimas adições principais, o
Circulo Ocidental
, foi concluído em
1618.
A 1761 Depiction Of The Castle Complex
O Castelo de Himej
i foi um dos últimos domínios dos
samurais
no final do
Período Edo
. Esteve na posse dos descendentes de
Sakai Tadasumi
até à
Restauração Meiji
. Em
1868,
o novo governo do
Japão
enviou o
Exército Okayama
, sob o comando dos descendentes de
Ikeda Terumasa,
com ordens para bombardear o castelo com cartuxos vazios e expulsar os seus ocupantes.
Quando se aboliu o
sistema han
, em
1871
, o castelo foi vendido em leilão por um valor de 23 yenes (actualmente 153 dólares). No entanto, o custo de desmantelar o castelo era altíssimo, e como resultado o complexo foi abandonado.
O
Décimo Regimento de Infantaria
ocupou o conjunto em
1874
e o
Ministério da Guerra
tomou controle deste em
1879
. A torre principal foi restaurada em
1910
, com o custo de 90.000 yenes retirados dos fundos públicos. A cidade de
Himeji
foi bombardeada em
1945
, no final da
Segunda Guerra Mundial
. Apesar de a maior parte da área circundante ter sido completamente incendiada, o castelo sobreviveu sem sofrer danos, à excepção de alguns impactos das explosões nas redondezas.
Os esforços para restaurar o castelo começaram em
1956
, e durante o processo foram usados, apenas, equipamentos e métodos comuns a época de sua construção, tendo o restauro ficado concluído em
1964.
Link:
Himeji.Castle.Miniature.Paper.Model.by.Hanae.Nozaka
More Paper Models of Japanese Castles related posts:
Matsumoto Castle In Japan - by Paper Grade - Castelo Japonês
Easy-To-Build Japanese Castle For Kids - by 570 Design
A Japanese Castle, A Samurai Armor And Many More - by Iodata
Kumamoto Castle, in Japan - by Canon - Castelo Japonês