This is the Simple Jungle Hut, an easy-to-build paper model that is perfect for Dioramas, RPG and Wargames. In the downloadable file you will find the model in JPG, BMP and PDF formats. Enjoy!
Esta é a Cabana da Selva, um modelo de papel bem fácil de montar que é perfeito para Dioramas, RPG e Wargames. No arquivo para download você tem a opção de escolher entre os formatos JPG, BMP e PDF. Boa montagem!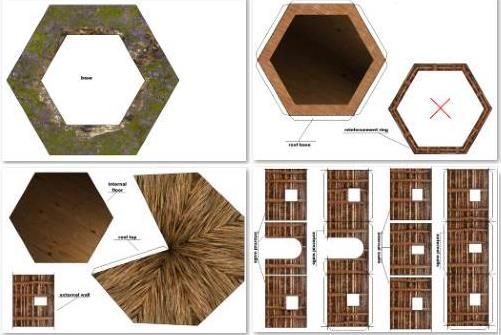 Link:
Simple.Jungle.Hut.Paper.Model.by.Papermau.Download.Now!
More Papermau Paper Models related posts:
Greek-Roman Ruins Diorama - by Papermau - Ruínas Greco-Romanas Download Now!
Brick Street Diorama - by Papermau - Rua de Paralelepípedos
Little Urban Diorama - by Papermau - Pequeno Diorama Urbano
Roman Castrum In Romania - by Papermau - Download Now!