This very original paper model of a WW2`s aircraft
in
SD style (super deformed style)
, the
Junkers Ju 87 Stuca,
from
German Air Force,
was created by
Japanese designer Commufa.
- To
view and print this model
you will need
Pepakura Viewer Free Version
(
link at the end of this post
). - Due to the
website being all in the Japanese language
, I took the liberty of
placing a direct link to download the template
, since
I had difficulties finding this link on the page.
Este modelo de papel bem original
de um
avião da Segunda Grande Guerra
em
estilo SD (estilo super deformado)
, o
Junkers JU 87 Stuca,
da
Força Aérea Alemã,
foi criado pelo
designer japonês Commufa.
- Para
visualizar e imprimir este modelo
você precisará do
Pepakura Viewer Versão Gratuíta
(
link no final deste post
). - Devido ao
website estar todo na língua japonesa
, eu tomei a liberdade de
colocar um link direto para baixar o modelo
, já que
tive dificuldades em encontrar este link na página.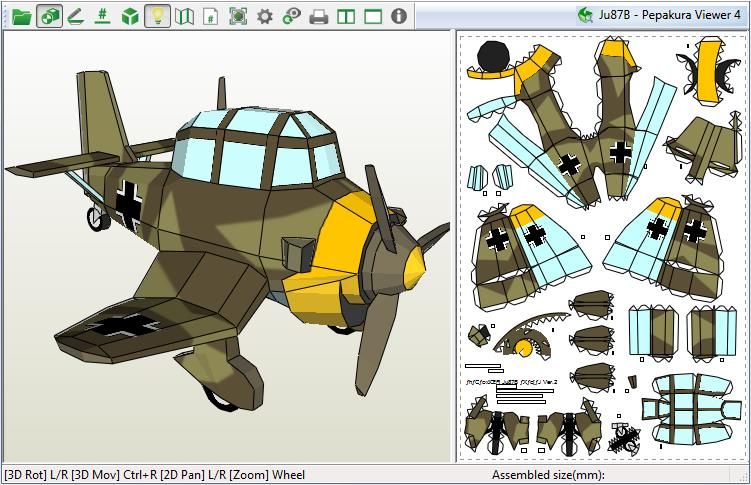 Link to Commufa website:
Commufa.Paper.Models.Of.WW2`s.Aircrafts.In.SD.Style.Website
Direct link to download the model:
WW2`s.German.Aircraft.Junkers.Ju.87.Stuca.Paper.Model.by.Commufa
Link to Pepakura Viewer Free Version:
Pepakura.Viewer.Free.Version.Official.Page
More Paper Models of Aircraft and Planes related posts:
Triplane Fokker Dr I - by Recortecole - Avião Triplano - WWI
Boeing X-20 Dyna Soar - by Takumi - Nasa Paper Model
Curtiss R3C-2 Vintage Racing Aircraft - by Takumi - Avião De Corrida
United Airlines Flight 93 Aircraft - by Jules Perdana