Ray O`Bannon, designer of these nice Halloween themed Puzzles, says:
-
"Here's a set of six little puzzles
to
cut out
and
have fun assembling.
Each puzzle includes a reference image to help you figure it out. Just
place the pieces face down on a table top, slide them around to mix them up, and then turn them over and enjoy figuring out the puzzle.
For a
more challenging puzzle
,
cut each piece into two pieces
and
assemble without using the reference image.
Or
combine two or more puzzles
and
race your friends to see who can finish assemblng an image first.
There's also a
mounting board
to help
organize the pieces
and to
display your finished puzzle.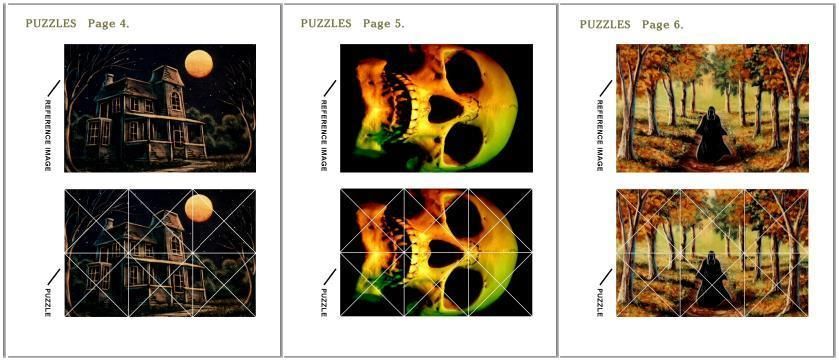 Aqui está um conjunto
de
seis pequenos quebra-cabeças para cortar
e se
divertir montando.
Cada quebra-cabeça inclui uma imagem de referência para ajudá-lo a descobrir. Basta
colocar as peças viradas para baixo
sobre uma mesa,
embaralhá-las,
e em seguida tentar
montar as cenas
. Para
um desafio maior,
corte cada pedaço em dois
e
monte sem usar a imagem de referência
. ou
combine dois ou mais quebra-cabeças
e
aposte com seus amigos
para ver quem consegue
montar tudo em primeiro lugar
. Há também uma
placa de montagem
para ajudar a
organizar as peças
e para
exibir seu quebra-cabeça acabado.
Link:
Halloween.Special.Puzzles.Paper.Models.by.Ravensblight
More Paper Models of Puzzles related posts:
3D Colorful Maze Papercraft - by Canon - Labirinto 3D
Pterodactyl Cardboard Puzzle With Templates - by DIYHacksAndHowTos - via Instructables
Chinese Dice Puzzle Paper Model - by Mak - via Paper Modelers
WW2`s Supermarine Spitfire Puzzle Paper Model - by Seb21zr