Nelson Rolihlahla Mandela Xhosa
(
18 July 1918 – 5 December 2013
) was a
South African anti-apartheid revolutionary, politician and philanthropist
who served as
President of South Africa
from
1994 to 1999
. He was
South Africa's first black chief executive
, and the
first elected in a fully representative democratic election
. His government focused on
dismantling the legacy of apartheid through tackling institutionalised racism, poverty and inequality, and fostering racial reconciliation
. Politically an
African nationalist and democratic socialist
, he served as
President of the African National Congress (ANC) from 1991 to 1997.
Internationally,
Mandela was Secretary General of the Non-Aligned Movement
from
1998 to 1999
. A
Xhosa born to the Thembu royal family, Mandela
attended the
Fort Hare University and the University of Witwatersrand,
where
he studied law.
Living in
Johannesburg
, he became involved in
anti-colonial politics, joining the ANC and becoming a founding member of its Youth League.
After the
South African National Party
came to power in 1948
, he
rose to prominence in the ANC's 1952 Defiance Campaign
, was appointed
superintendent of the organisation's Transvaal chapter and presided over the 1955 Congress of the People.
Working as a lawyer, he was
repeatedly arrested for seditious activities and, with the ANC leadership,
was
unsuccessfully prosecuted in the Treason Trial from 1956 to 1961.
Influenced by
Marxism
, he secretly joined the
South African Communist Party (SACP)
and sat on its
Central Committee
. Although
initially committed to non-violent protest
, in association with the SACP
he co-founded the militant Umkhonto we Sizwe (MK) in 1961
, leading a
sabotage campaign against the apartheid government.
In 1
962, he was arrested, convicted of conspiracy to overthrow the state, and sentenced to life imprisonment in the Rivonia Trial.
Mandela
served 27 years in prison
, initially on
Robben Island,
and later in
Pollsmoor Prison and Victor Verster Prison.
An
international campaign lobbied for his release. He was released in 1990, during a time of escalating civil strife. Mandela
joined negotiations with
President F. W. de Klerk to abolish apartheid and establish multiracial elections in 1994, in which he led the ANC to victory and became South Africa's first black president. He published his autobiography in 1995. During his tenure in the Government of National Unity he invited other political parties to join the cabinet, and promulgated a new constitution
. He also
created the Truth and Reconciliation Commission to investigate past human rights abuses
. While continuing the
former government's liberal economic policy,
his
administration also introduced measures to encourage land reform, combat poverty, and expand healthcare services
. Internationally, he
acted as mediator between Libya and the United Kingdom in the Pan Am Flight 103 bombing trial,
and oversaw
military intervention in Lesotho
. He
declined to run for a second term,
and was
succeeded by his deputy, Thabo Mbeki
. Mandela became an
elder statesman, focusing on charitable work in combating poverty and HIV/AIDS through the Nelson Mandela Foundation.
Mandela
was a
controversial figure for much of his life.
Denounced as a communist terrorist by critics,
he nevertheless
gained international acclaim for his activism
, having r
eceived more than 250 honours
, including the
1993 Nobel Peace Prize
, the
US Presidential Medal of Freedom
, and the S
oviet Order of Lenin
. He is held in
deep respect within South Africa
, where he is often referred to by his
Xhosa clan name, Madiba,
or as
Tata ("Father")
; he is often
described
as the
"Father of the Nation".
- read more at
Nelson.Mandela.Wikipedia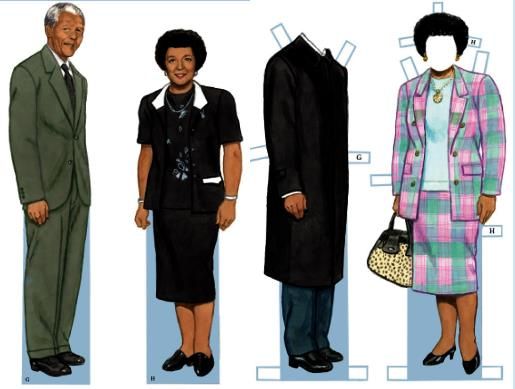 Nelson Rolihlahla Mandela Xhosa
(
Mvezo, 18 de julho de 1918 — Joanesburgo, 5 de dezembro de 2013
) foi um
advogado, líder rebelde e presidente da África do Sul de 1994 a 1999
, considerado como
o mais importante líder da África Negra, ganhador do Prêmio Nobel da Paz de 1993
, e
pai da moderna nação sul-africana
, onde é normalmente
referido como Madiba (nome do seu clã) ou Tata ('Pai').
Nascido numa
família de nobreza tribal,
numa pequena aldeia do interior onde
possivelmente viria a ocupar cargo de chefia,
recusou esse destino aos 23 anos ao seguir para a capital, Joanesburgo,
e iniciar sua atuação política. Passando do interior rural para uma
vida rebelde na faculdade
, transformou-se em
jovem advogado na capital
e
líder da resistência não-violenta da juventude
, acabando como
réu em um infame julgamento por traição.
Foragido, tornou-se depois o
prisioneiro mais famoso do mundo
4 e, finalmente,
o político mais galardoado em vida, responsável pela refundação do seu país, como uma sociedade multiétnica
.
Mandela passou 27 anos na prisão
- inicialmente em
Robben Island
e, mais tarde, nas
prisões de Pollsmoor e Victor Verster
. Depois de uma
campanha internacional
, ele
foi libertado em 1990,
quando recrudescia a
guerra civil
em seu país. Em
dezembro de 2013
, foi revelado pelo
The New York Times
que a
CIA americana
foi a
força decisiva para a prisão de Mandela
em
1962
, quando
agentes americanos foram empregados para auxiliar as forças de segurança da África do Sul e para localizá-lo
. Até
2009,
ele havia
dedicado 67 anos de sua vida à causa que defendeu como advogado dos direitos humanos e pela qual se tornou prisioneiro de um regime de segregação racial
, até ser
eleito o primeiro presidente da África do Sul livre.
Em sua
homenagem
, a
Organização das Nações Unidas
instituiu o
Dia Internacional Nelson Mandela
no
dia de seu nascimento, 18 de julho,
como forma de
valorizar em todo o mundo a luta pela liberdade, pela justiça e pela democracia.
Mandela
foi uma
figura controversa durante grande parte da sua vida
. Denunciado como sendo um
terrorista comunista
por seus críticos, ele acabou por ser
aclamado internacionalmente por seu ativismo
e recebeu mais de
250 prêmios e condecorações, incluindo o Nobel da Paz em 1993, Presidential Medal of Freedom dos Estados Unidos e a Ordem de Lenin da União Soviética.
Seus críticos apontam seus
traços egocêntricos
e o fato de
seu governo ter sido amigo de ditadores simpáticos ao Congresso Nacional Africano (CNA).
Em sua
vida privada
, enfrentou
dramas pessoais mas permaneceu fiel ao dever de conduzir seu país.
Foi
o mais poderoso símbolo da luta contra o regime segregacionista do Apartheid, sistema racista oficializado em 1948,
e
modelo mundial de resistência.
No dizer de
Ali Abdessalam Treki, Presidente da Assembleia Geral das Nações Unidas
,
"um dos maiores líderes morais e políticos de nosso tempo".
- leia mais em
Nelson.Mandela.Wikipedia
Link to sheet 01:
Nelson.Mandela.Dress.Up.Paper.Doll.by.Dover.Publications.Page.01
Link to sheet 02:
Nelson.Mandela.Dress.Up.Paper.Doll.by.Dover.Publications.Page.02
Link to sheet 03:
Nelson.Mandela.Dress.Up.Paper.Doll.by.Dover.Publications.Page.03
Link to sheet 04:
Nelson.Mandela.Dress.Up.Paper.Doll.by.Dover.Publications.Page.04
Link to sheet 05:
Nelson.Mandela.Dress.Up.Paper.Doll.by.Dover.Publications.Page.05
Link to sheet 06:
Nelson.Mandela.Dress.Up.Paper.Doll.by.Dover.Publications.Page.06
More Dress Up Paper Dolls related posts:
Reconstruction Paper Dolls Series - by 19th Century Paper Dolls
Vintage Pin-Up Paper Dolls - by Ondiraiduveau - via Flickr
1880`s Kaiser Frederick The 3rd and Kaiserin Victoria - by 19th Century Paper Dolls
Marilyn Monroe Dress Up Paper Doll - by Cory Jensen