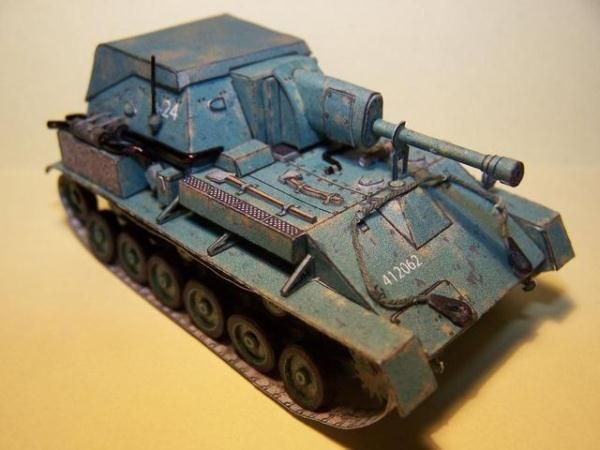 This weekend we have a really beautiful and well done paper model of a WW2`s Russian Tank SU 76M, in 1/72 scale, designed and assembled by French modeler Morph, from Le Forum En Papier. A really cool model and a very detailed construction report. Thanks, Morph, for this great model!
Neste final de semana nós temos um modelo de papel realmente bonito e muito bem feito de um Tanque Russo SU 76M, em escala 1/72, da Segunda Grande Guerra, criado e montado pelo modelista francês Morph, do Le Forum En Papier. Um modelo realmente belo e um tutorial muito bem detalhado. Muito obrigado, Morph, por este grande modelo!
Link to download the model:
The.Weekend.Pic.WW2`s.Russian.Tank.SU.76M.by.Morph.Download.Model
Link to construction report:
The.Weekend.Pic.WW2`s.Russian.Tank.SU.76M.by.Morph.Construction.Report
About "The Weekend Pic" - It will always be an image of a free model, built by a designer found in forums, blogs or sites around the Net. I would like to ask the cooperation of all friends of the blog to indicate some models for this weekly post. The only requirement: the model needs to be freely distributed and there must be a link to this assembly or construction report.
Sobre "The Weekend Pic" - Será sempre uma imagem de um modelo gratuíto, construída por um designer achado ao acaso em foruns, blogs ou sites ao redor da Net. Eu gostaria de pedir a colaboração de todos para indicar modelos para este post semanal. A única exigência : o modelo tem que ser de livre distribuição e tem que haver um link para esta montagem, de preferência com fotos de várias etapas da montagem.
More The Weekend Pics related posts:
The Weekend Pic - 1911`s White-LKW Truck - by Horst DH / Bastelbogen Online
The Weekend Pic - French Vintage Locomotive - by Michel Cerfvoliste / Agence Eureka
The Weekend Pic - Fire Brigade Truck Vintage Style - by Papermau
The Weekend Pic - The Truck Tractor - by LeVoyou / Epson